Mackovic ╬interested' to see how team plays
Every week prior to this one, the question has been: Which Wildcat team will show up tomorrow at 1:30 PST in a non-televised game?
Will it be the team that put up a battle and lost to current No. 3 Washington State 21-13? Or will it be the one that just went through the motions in a 37-7 loss to UCLA last weekend?
But there is an entirely new question this week with all that has gone on in the past three days. The question isn't which team will show up, but rather if some players will show up at all, either physically or mentally, and play for their head coach John Mackovic. [Read article]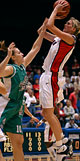 Women wrap up exhibition games today
Sunday will be anything but a day of rest for the Arizona women's basketball team as it takes on Team Concept in an exhibition at 2 p.m. in McKale Center.
After dismantling the Czech club team last week, head coach Joan Bonvicini is looking to improve more, especially since No. 4 LSU is lurking on the horizon.
However, Bonvicini will not be on the sidelines for the last exhibition before the start of the regular season. [Read article]




Seniors play final home match
This weekend marks the end of the road for five senior women's volleyball players, who will suit up for the last time in front of their fans this weekend as the Wildcats play host to Oregon and Oregon State.
Four years ago, Rachel Williams, Lisa Rutledge, Shannon Torregrosa and Christina Frost came to Arizona (13-9 overall, 8-6 Pacific 10 Conference) with a goal of helping bring prominence to the program. [Read article]




Icecats return to friendly confines
The No. 8 Arizona Icecats return home this weekend to face Colorado State in a two-game set, starting tonight at the Tucson Convention Center. They square off against the Rams tomorrow night as well, with the puck dropping for both games at 7:30.
The Icecats' (4-3) return to action in Tucson could not come at a better time, following the team's three-game road trip last weekend that saw losses to Penn State and Delaware, 7-3 and 4-3, before it was able the take the final game on Saturday over the same Delaware squad, 4-2. [Read article]



Online Exclusive: Clubs Sports Briefs
Rugby
The University of Arizona takes its bruiser image on the road this weekend, waging war with two of sunny California's toughest opponents.
The UA ruggers will take on St. Mary's in Moraga and Stanford in match-ups marking the opening of the season for both California schools. [Read article]





showads('mediumbutton'); ?>

showads('bigbutton'); ?>