Mackovic ╬interested' to see how team plays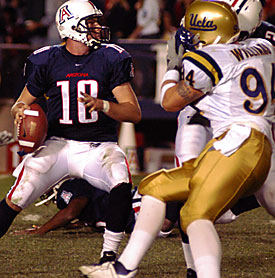 SAUL LOEB/Arizona Daily Wildcat

Senior quarterback Jason Johnson will look to take the Wildcats past the recent turmoil and lead them to their first Pac-10 victory.

By Charles Renning
Arizona Daily Wildcat
Friday November 15, 2002


Every week prior to this one, the question has been: Which Wildcat team will show up tomorrow at 1:30 PST in a non-televised game?

Will it be the team that put up a battle and lost to current No. 3 Washington State 21-13? Or will it be the one that just went through the motions in a 37-7 loss to UCLA last weekend?

But there is an entirely new question this week with all that has gone on in the past three days. The question isn't which team will show up, but rather if some players will show up at all, either physically or mentally, and play for their head coach John Mackovic.

"I don't think it would come down to that," senior linebacker Lance Briggs said. "But I do know that we have a lot of thinking to do amongst the players."

"I asked for an opportunity with our team, to do a better job with them," said Mackovic on Wednesday. "Some of them are obviously supportive of that; some of them, I feel, probably are not as supportive. But all I can pledge at this point is that I will do anything and everything possible to restore the pride and dignity in our program. I intend to do that."

After a whirlwind of events that included a 41-player meeting with President Pete Likins, a 90-minute meeting between athletic director Jim Livengood and head coach John Mackovic, and a press conference in which Mackovic publicly apologized for his conduct toward his players and coaches, not much will be certain when the Wildcats take the field tomorrow.

One thing that is certain is UA (3-7 overall, 0-6 Pac-10) will play Cal (6-4, 3-3) tomorrow in Memorial Stadium in Berkeley, Calif., and a win could give a little boost to a program that has lost six-straight games.

After all that has gone on in the last three days, Mackovic said he was very pleased with how practice went yesterday.

"(Practice) was excellent," Mackovic said. "I thought the guys really worked today at getting ready to do the things they want to do."

Mackovic said there was normalcy at practice yesterday and that he has begun to take steps in having better communication with the players. He went to several of the individual positions meetings and gave everyone a chance to express anything they wanted.

"I (talked to) about half the guys today and I will finish the other half tomorrow," Mackovic said. "Early next week, hopefully, I can talk to everybody one-on-one."

As for how he feels the team will perform with all of the distraction against Cal, he said he is in the same boat as everyone else.

"I'll be as interested as anyone to see how they play," he said.

Similar to this year, last season, the Wildcats went into Cal looking for their first win of the year. Arizona went on to beat the Bears 38-24 and was able to win two of its last three games.

"We just have to stay focused," freshman cornerback Darrell Brooks said. "We know that we can go into Berkeley and play well. We have in the past and we just need to repeat that."

However, this isn't the same Cal team as last season's.

Last year, Cal finished the season 1-10 and last in the Pacific 10 Conference. But this season is different. It has a new head coach in former Oregon offensive coordinator Jeff Tedford, and he has the Bears one win away from becoming bowl eligible, pending the outcome of Cal's appeal of a one-year bowl ban by the NCAA.

Currently, Cal has had the biggest turnaround of any Division I team in the last two years. The Bears already have five more wins than last season and still have two games to play. Some Wildcat players see this as a sign that things can turn around relatively quickly.

"You see how Cal has been the last several years ¸ they were the runts of the Pac-10. Now, they are dominating," Brooks said. "We feel that in years to come we can do the same thing."

One key tomorrow will be who will win the turnover battle. Arizona is dead last in the Pac-10 in turnover margin, while Cal sits at the top. The Bears are at a +17 turnover ratio and have recovered 19 fumbles, with 12 interceptions.

"They make a lot of big plays," said Mackovic. "They really follow the ball a lot and their defensive secondary has been physical with the receivers."

With all of the turmoil surrounding the Wildcats, no one is really sure what to expect out of this weekend's game ¸ not even the players.

"It's hard to say what the status is. I guess we'll see on Saturday," freshman quarterback Ryan O'Hara said.

Sideline Note

Senior quarterback Jason Johnson earned first-team Verizon Academic All-District VIII honors yesterday. This was Johnson's second year on the list. Last year he was on the second team. With this honor, Johnson becomes eligible for the Verizon Academic All-America honors.