Women wrap up exhibition games today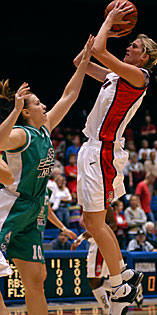 SAUL LOEB/Arizona Daily Wildcat

Junior forward Krista Warren and the Wildcats take on Team Concept Sunday at 2 p.m at home.

By Jeff Lund
Arizona Daily Wildcat
Friday November 15, 2002


Sunday will be anything but a day of rest for the Arizona women's basketball team as it takes on Team Concept in an exhibition at 2 p.m. in McKale Center.

After dismantling the Czech club team last week, head coach Joan Bonvicini is looking to improve more, especially since No. 4 LSU is lurking on the horizon.

However, Bonvicini will not be on the sidelines for the last exhibition before the start of the regular season.

Bonvicini will be traveling home to Connecticut to be with her brother, who is battling illness.

She will return to the team Monday.

As for the game, Bonvicini said her team is progressing well and she likes the effort and willingness to learn so far.

"These practice games are great because you get to see what you need to work on," Bonvicini said. "As a coach, you always think (your team) is behind a little bit, but this team pays attention."

Senior forward Krista Warren said Sunday's game could be much more difficult than most might expect due to the large amount of recent Pac-10 graduates on the team.

"We are excited because they have a lot of (former) Pac-10 (players) on their roster," Warren said. "It will be fun to play some of them again. It's going to be a test of how we are going to do in the Pac-10 because we are playing so many (players) that used to play in the Pac-10."

Team Concept's roster boasts six former Pac-10 players, highlighted by former Washington guard Jamie Redd.

Redd has played for the WNBA's Seattle Storm since 2000.

The rotating roster has limited the team's potency, as the squad has posted just one win in 10 games thus far despite the solid roster. Redd leads the team with an average of 17.9 points per game and is averaging 5.6 rebounds per game.

Bonvicini received some good news prior to the start of the weekend, as another high school senior, Shannon Hobson, signed a letter to attend Arizona in addition to Wednesday's letter from Rachael Schein.

Schein, a 5-foot-11 forward, averaged 14.5 points and 8.7 rebounds as a junior last year, and has been a starter since her freshman year.

She led Centennial High School to a perfect 34-0 record and a 4A state championship as a junior. During her career, her team is 92-5.

A 6-2 post player, Hobson averaged 18.9 points, 16.9 rebounds and 4.4 blocks, and is ranked No. 21 nationally by All-Star Girls Report.

"Shannon is an outstanding player with a strong body who will be a great complement to (current freshman Shawntinice Polk) and to the rest of the team," Bonvicini said. "We expect Shannon to see significant playing time as a freshman. She's a very hard worker who we think is going to be a great player for us."

Bonvicini said this class, along with the current young team, should see success over the next few years. She also pointed out that recruiting is not just up to the coaches.

"I think our staff did a great job with this class, especially (assistant coach) Curtis Loyd, who was on the road recruiting for the first time this year," Bonvicini said. "Our current players did an outstanding job recruiting too, probably better than they've ever done before."