Seniors play final home match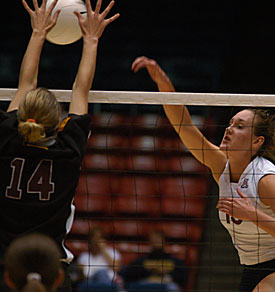 KEVIN KLAUS/Arizona Daily Wildcat

Senior outside hitter Lisa Rutledge, along with fellow seniors Shannon Torregrosa, Rachel Williams and Laurie Gardner, will play in front of the McKale Center crowd for the last time tonight.

By Brian Penso
Arizona Daily Wildcat
Friday November 15, 2002


This weekend marks the end of the road for five senior women's volleyball players, who will suit up for the last time in front of their fans this weekend as the Wildcats play host to Oregon and Oregon State.

Four years ago, Rachel Williams, Lisa Rutledge, Shannon Torregrosa and Christina Frost came to Arizona (13-9 overall, 8-6 Pacific 10 Conference) with a goal of helping bring prominence to the program.

Four years later, these four seniors have helped Arizona to its first Final Four, two Elite Eights and three Sweet 16 appearances.

Williams, Rutledge, Torregrosa and Frost were also key contributors to leading Arizona to its first Pac-10 title in 2000.

Joining those seniors for their last home matches is setter Laurie Gardner, who transferred from Indiana for her last season of eligibility.

Gardner had the tough job of replacing two-time All-American Dana Burkholder, but Arizona head coach David Rubio said Gardner has done a superb job running the Arizona offensive attack.

"I can't say enough about our seniors," Rubio said. "We would never be at the current competitive level that we are at without these seniors. It will be sad when they leave the program and graduate, but it happens every year and we have to move on."

Rutledge has been an offensive weapon on the outside for the Wildcats throughout her career and will finish third all-time in kills as well as the all-time leader in starts if she maintains her health.

Williams and Frost have both been key defensive players for the past four years. Both of these seniors are often overlooked as their contributions don't show up in the box score, but Rubio said Williams and Frost are just as valuable as Arizona's prolific outside hitters.

"Every player plays a vital role for us." Rubio said. "Some roles are more obvious than others. Our defensive specialists are our unsung heroes."

Torregrosa has often been the X factor throughout her career for the Wildcats.

Torregrosa was recruited as an outside hitter, but Rubio has often asked her to adapt and play the middle as well.

This season, her value to the Wildcats was most apparent as she moved to the middle when former player Stefani Saragosa quit the team due to injury.

Torregrosa was recently moved back to the outside, but her role in the offense has still been limited.

Torregrosa showed her unselfishness and said she is only concerned with doing what Rubio feels gives the Wildcats the best opportunity to win.

"I have a different role this year," Torregrosa said. "I am a leader on this team and I am willing to do whatever it takes to help this team win."

These five seniors would love nothing more than to conclude their home career with two wins and that should play out as the Oregon schools are a combined 3-25 in Pac-10 play.

However, Rubio is concerned that Arizona players may be overlooking these two matches in preparation for next week's showdown with No. 2 USC and 19th ranked UCLA.

"I have been worrying about them overlooking these matches," Rubio said. "It is my job to prepare them and have them ready to play. The Oregon schools don't have a good record, but they have played in a lot of close matches."

First serve is set tonight against Oregon at 7 p.m. in the McKale center.

Sideline Notes

Yesterday, Rubio received three national letters of intent from opposite hitter setter Kristina Baum, Stephanie Butkus and middle blocker Enobong Ibok

Frost still has one year of eligibility remaining, but she has decided to forgo her last year to graduate this spring.

With two home matches remaining, the Wildcats are 727 fans away from breaking the current UA record of 24, 525 fans for one season.

Freshman outside hitter Kim Glass is only 27 kills behind former Wildcat Barb Bell's freshman record 417 kills.