Athlete of the Week: Amanda Martin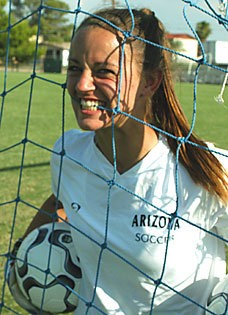 KEVIN KLAUS/Arizona Daily Wildcat

Goalkeeper Amanda Martin is the Daily Wildcat's choice for Athlete of the Week after she led her team to consecutive shutout victories in last weekend's Wildcat Invitational.

By Ross Hammonds
Arizona Daily Wildcat
Wednesday September 4, 2002


Player Profile

Name: Amanda Martin

Sport: women's soccer

Position: goalie

Year/major: freshman/undecided

Latest highlight: Martin stopped all 24 shots she faced in the two-day Wildcat Invitational Tournament. She is the first UA goalie since 1999 to have two shutouts in a season ¸ and the team has only played two games.

Wildcat: What is your shoe size?

Martin: Nine.

Wildcat: What is your favorite TV show?

Martin: American Idol.

Wildcat: Who is your favorite person on the show?

Martin: The hot guy with curly headed hair.

Wildcat: What is the first thing you do in the morning?

Martin: I argue with myself if I can sleep in more.

Wildcat: Last time you laughed so hard you cried?

Martin: At practice Candice (Wilks) was on a break-away and I came out of goal and she tackled me. I was laughing because it hurt so bad.

Wildcat: Favorite sports memory?

Martin: Being high school state champs.

Wildcat: Actress who would play you in the movie of your life?

Martin: Geena Davis, like in "A League of Their Own."

Wildcat: Funniest teammates?

Martin: Candice, Traci Alder and Lisa Kosena are real funny.

Wildcat: Favorite thing to do when not playing soccer?

Martin: Anything outdoors, playing with friends.

Wildcat: Athlete in history you would want to meet?

Martin: Michelle Akers (U.S. Women's National Team all-time leading scorer).

Wildcat: What CD is in your player right now?

Martin: A mixed CD with a bunch of Christian rock bands.