Lineup solidified to face USC, UCLA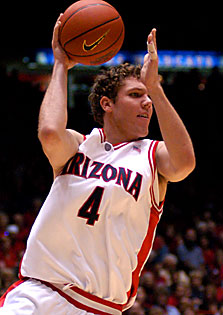 SAUL LOEB/Arizona Daily Wildcat

Senior All-American Luke Walton appears to be near full strength after coming back last week from his fourth ankle injury of the season. The Wildcats make their annual trip to Los Angeles this week, squaring off with Southern California tomorrow and UCLA on Saturday.

By Maxx Wolfson
Arizona Daily Wildcat
Wednesday January 15, 2003


After 11 different lineups in 12 games, it finally seems that UA head coach Lute Olson has settled on a starting lineup for the remainder of the season.

Three seniors, Jason Gardner, Rick Anderson and Luke Walton, and two sophomores, Salim Stoudamire and Channing Frye, are included in the lineup, coincidentally the same group the Wildcats used for the majority of last season.

"We're expecting, knock on wood, that we'll have the same lineup out on the floor that we had on Saturday and start getting people to understand what their roles are," Olson said.

The one problem with the lineup is that Olson said his team would not run a full-court press with both Walton and Anderson on the floor at the same time.

But that doesn't mean No. 2 Arizona (11-1, 4-0) is going to back off the press altogether. When freshmen Chris Rodgers, Hassan Adams and Andre Iguodala enter the game, the Wildcats gain a dimension they haven't had in the past.

"When I was asked at the start of the season how I could see this team being better, I said we'll be able to do a better job matching up with three quick guards on the perimeter, as opposed to what we did a year ago," Olson said.

Olson also likes to run the press with sophomore Dennis Latimore in the game, because of his versatility.

"Dennis is very strong and very physical, so he can play either of the inside spots," Olson said. "If we're getting more productivity out of him, we'll use him at the five or the four. That flexibility in his game will allow game will allow him game will allow him more minutes."

Latimore, who started his first career game Thursday against Washington State, seems to be taking minutes away from fellow sophomore Isaiah Fox.
---
Pac-10 Men's Basketball Standings
| | | |
| --- | --- | --- |
| Team | Conference | Overall |
| Arizona | 4-0 | 11-1 |
| California | 3-0 | 10-2 |
| Arizona State | 3-1 | 11-4 |
| Stanford | 2-1 | 11-4 |
| So. California | 2-1 | 6-5 |
| UCLA | 2-1 | 4-7 |
| Oregon | 1-3 | 10-4 |
| Washington | 1-3 | 6-7 |
| Oregon State | 0-4 | 7-6 |
| Washington St. | 0-4 | 5-8 |
---
I love L.A.
Growing up in Southern California, Anderson has seen his fair share of UCLA basketball games. Add to the fact that Anderson grew up with Bruin senior Jason Kapono ÷ the two went to elementary school together and lived less than 10 minutes from each other in Lakewood÷ and he said it's sad to know that he will be playing his last game at Pauley Pavilion.
"It's going to be a sad ordeal," said Anderson, who played his high school ball at Long Beach Poly and also grew up playing with Casey Jacobson, a current member of the Phoenix Suns.
Anderson joins Fox and Adams in calling Los Angeles home.
"The games are more fun because you play against some of the guys in high school and in AAU," Fox said. "But we know that both SC and UCLA are coming off of losses at home, and they will be gunning for us."
Fox, who grew up going to Bruin games to watch former high school mate Baron Davis, said that he once considered going to UCLA, but is happy he chose to play in Tucson.
"I came here because we are a big-time school, and we have a target on our chest," Fox said.
Boarding school
It seems that Arizona has solved its rebounding problems that plagued the team early in the season, as the Wildcats have outrebounded their opponents by a plus-13.5 margin since conference play began.
But Olson is now concerned with the team's offensive rebounding, especially Adams'.
"(Adams and Iguodala), along with Ricky, should be our best offensive rebounders, but they're nowhere near where they should be," Olson said. "If you do your job and do it well, then we, as a team, will be that much better. It's maturity and concentration on what needs to be done. The reason that they're not good offensive rebounders is that they're not consistently going after every ball."
Despite leading the team in offensive rebounds, Adams needs double that to meet Olson's expectations.
Lavin's days numbered?
Over the weekend, UCLA head coach Steve Lavin reportedly considered resigning after starting the season 1-4, but yesterday, he said he would ride out his tenure with the Bruins.
Lavin would lose 1.3 million if he decided to walk out on UCLA.
Olson said that Lavin has one of the toughest coaching jobs in the nation.
"UCLA is like a Kentucky or a North Carolina where there's going to be a tremendous amount of expectations with those jobs," he said. "With the three I mentioned, I can't imagine any tougher, job because you're expected to win, and win them all by very large margins."
UCLA athletics director Dan Guerrero said Saturday he would not fire Lavin during the season.
"Hey, the same thing happens around here every year," said Lavin last week. "Who's getting my job now? I hear Ben Howland (Pitt)? Rick Majerus (Utah)? Mike Riley? Yeah, he didn't get the football job, did he? He'd be good.
"I've been fired so many times, I lose track."
Roasted Duck
Many expected the Pac-10 to be a two-team race, but nobody thought the two teams would be Cal and Arizona.
The team everyone expected to challenge UA for the Pac-10 was No. 19 Oregon (10-4, 1-3), which has lost 3 of 4 conference games.
"I don't think anyone expected Oregon to go on the road and lose two on that swing," Olson said. "But the fact that Oregon is as veteran as they are, you wouldn't expect them to lose those."
Olson said some of that could be because of the success the Ducks had last season.
"I think that happens with anybody when they had the kind of year they had last year and kind of surprised some people," he said. "This year, they are getting everyone's A game. It's a lot tougher when every game you play you get everyone's A game."