Georgia Tech steals Bynum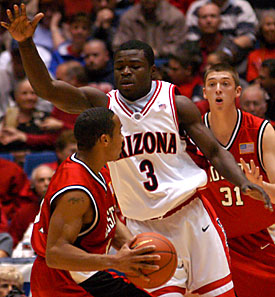 KEVIN B. KLAUS/Arizona Daily Wildcat

After leaving the Arizona men's basketball program last week, sophomore guard Will Bynum enrolled in classes on Monday at Georgia Tech. Under NCAA rules, Bynum will be eligible to play for the Yellow Jackets next December.

By Maxx Wolfson
Arizona Daily Wildcat
Wednesday January 15, 2003


Former UA guard Will Bynum decided to transfer to Georgia Tech and play for the Yellow Jackets next season.

Bynum, who left Arizona just eight games into his sophomore year, can begin play at the conclusion of the 2003 fall semester.

"When we heard about him leaving Arizona, we let his high school coach know that we'd have an interest," said GT head coach Paul Hewitt Monday in a statement. "After we received his release on Tuesday of last week, I had a chance to talk to Will on Wednesday, and he expressed an interest in attending Georgia Tech."

It was rumored that Bynum was heading to Oklahoma State, but UA head coach Lute Olson said yesterday that he did not think OSU had a scholarship to offer Bynum.

Hewitt told Olson that was one of the major reasons Bynum chose to play for Georgia Tech.

"I just sat back and laughed. I thought it was funny that no one talked to me, but everyone knew where I was going," Bynum told the Chicago Sun-Times.

He arrived in Atlanta Sunday and watched practice from the sideline.

His days seemed numbered at UA when he didn't make the Wildcats' trip to Oregon two weeks ago. Four days later, he requested his release from Arizona.

Prior to the start of the season, Bynum seemed happy to be in Tucson, despite struggling at times last year with the constant questioning of his role on the team.

He averaged 7.8 points while shooting 35.6 percent from the field and 35.1 percent from three-point range.

"He's a very explosive ball-handler and scorer," Hewitt said. "We feel like he's going to be a tremendous addition to our program."

Bynum made an official visit to Tech as a high school senior and liked the school back then.

He will join star freshman forward Chris Bosh for the next two and a half seasons.