Short of final four, v-ball looks ahead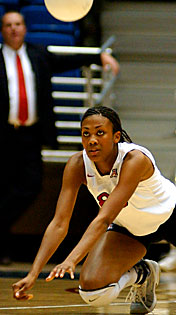 CHRIS CODUTO/Arizona Daily Wildcat

Freshman Kim Glass was named the national freshman of the year by the American Volleyball Coaches Association.

By Brian Penso
Arizona Daily Wildcat
Wednesday January 15, 2003


From the beginning, 2002 didn't quite seem to be Arizona's year, and in the end, the Wildcats came up just short in their goal of reaching the school's second Final Four. Despite falling short of reaching the national semi-finals for the second year in a row, Arizona has plenty to look forward to next year, as the next generation of Wildcats heads into its first off-season.

UA head coach David Rubio and the Wildcats managed to reach their third consecutive Elite Eight game before losing to Pacific 10 Conference foe Stanford, which will be a springboard for next fall's campaign.

"It was a great finish, considering the inconsistencies throughout the season," Rubio said. "To make it to the round of eight is a great accomplishment."

Arizona finished the season ranked 10th in the country.

Heading into the off-season, Rubio said the main focus is going to be replacing the passing that Arizona seniors Laurie Gardner, Lisa Rutledge, Shannon Torregrosa, and Rachel Williams provided.

"We are going to have to break in a new setter next year," Rubio said. " We really relied on Lisa and Laurie this season. We are going to have to fill those holes immediately. It is going to be very difficult to find a replacement for Lisa."

Finding a replacement for Gardner as setter requires a two-person race between sophomore Rochelle Ruen and Stephanie Butkus öö a highly touted incoming freshman that Rubio is excited about seeing on the squad.

"Stephanie is the perfect setter to follow (former Arizona All-American) Dana (Burkholder) and Gardner," Rubio said. "She has good skills and sound fundamentals, but more importantly she'll be able to step in and play right away because of her mental approach to setting. In the Pac-10, the mental part of the game is more important than the athletic part."

Replacing Rutledge will be a different story, but national freshman player of the year Kim Glass said that the off-season will give her a chance to improve her passing in order to help fill the void caused by the loss of Rutledge. Glass' one glaring weakness during her stellar freshman campaign was her inability to dig serves to set up the offense.

Arizona opponents served Glass as much as possible in order to take her out of UA's offensive game plan.

"All of the seniors had a level of consistency that you can only gain through experience," Glass said. "We are going to miss Lisa a lot. In the spring I want to really work on my passing because it is going to be difficult without Lisa."

The Wildcats are allowed to practice eight hours a week beginning next Tuesday.

The one difference in the spring, however, is that practice begins at 6:00 a.m. rather then 2:30 p.m.

Arizona begins practice with conditioning, directly followed by weight lifting. After an hour of running and lifting weights, the team then proceeds to the court for volleyball-related drills.Glass said off-season training will differ greatly from her high school days.

"To be honest, I am not looking forward to practicing that early," Glass said. "I am going to come to practice and work hard, but I am not looking forward to the early mornings."

The spring season will be beneficial for Arizona's top two returnees, Glass and freshman Bre Ladd, but Rubio said the continual year-round practice will give Jennifer Abernathy and Meghan Cumpston an opportunity to show that they are deserving of playing time next season.

"This spring is very important for Jennifer," Rubio said. "She knows that her time to shine starts now. She needs to stay focused and see how that unfolds. The spring will also give Meghan, Angie Ayers, and our other young players an opportunity to continue to develop and reach their ultimate potential."

Arizona loses five players to graduation, making the upcoming spring season a defining time for the young Wildcats. Spring workouts will be as important as ever if they plan on returning to the Elite Eight and moving on to the Final Four, and eventually making a run at Arizona's first-ever volleyball national championship.