Athlete of the week: Stoudamire shines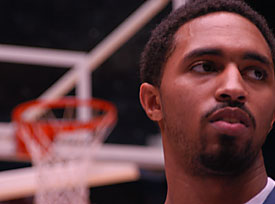 DEREKH FROUDE/Arizona Daily Wildcat

Men's basketball sharpshooter Salim Stoudamire averaged 18.5 points during winter break wins over Washington State and Washington.

By Maxx Wolfson
Arizona Daily Wildcat
Wednesday January 15, 2003


Sport: Men's basketball
Position: guard
Year: Sophomore
Major: Undecided
Hometown: Lake Oswego, Ore.

Why Stoudamire won: Coming off an ankle injury that sidelined the sophomore early in the season, Stoudamire had his best two-game stretch against the Washington schools. He shot 52.6 percent from the field (10-of-19), including 46.7 percent from three-point range, to average 18.5 points, 2.0 rebounds and 2.0 steals. Stoudamire, who leads the Pac-10 from the free-throw line, shooting 93.5 percent (29-of-31), hit all 10 attempts last week.

WILDCAT: You played a little point guard against Washington. Do you like handling the ball?

STOUDAMIRE: Yeah, ultimately that is the position that I want to play.

WILDCAT: You struggled in your first couple games back from your ankle injury, was it nice to knock down your shots last week?

STOUDAMIRE: Definitely, my confidence is high right now.

WILDCAT: Speaking of the ankle, how does it feel?

STOUDAMIRE: It's feeling better.

WILDCAT: What is the team's first goal this season? To go undefeated?

STOUDAMIRE: To win the Pac-10 is the first goal and then it would be nice to go undefeated.

WILDCAT: Have you always been such a good free-throw shooter?

STOUDAMIRE: I have always been a good free-throw shooter but never this good. I used to shoot around 80 percent.

WILDCAT: Are you excited about Thursday's game against USC?

STOUDAMIRE: I'm excited because I have a couple friends on USC, Errick Craven who I played at Double Pump Camp with and Brandon Brooks who is from Portland.

WILDCAT: Do you expect to do much pressing against USC and UCLA?

STOUDAMIRE: I think we will play a lot more zone.

WILDCAT: Overall this team seems like it's becoming a better defensive unit?

STOUDAMIRE: Guys are taking pride in their defense this year. It all starts with one person and I try to be that one person.

WILDCAT: Let's move on to something other than basketball. What's your favorite movie?

STOUDAMIRE: The Mack, it's about a pimp, it's an old movie. I don't know who's in it, but the pimp's name is Goldie in the movie.

WILDCAT: What are you listening to now?

STOUDAMIRE: I have a little Wu Tang Clan, the old stuff. I'm more into old school rap right now because I don't like the rappers now. Their rhymes have no substance.

WILDCAT: Like Nelly rapping about shoes?

STOUDAMIRE: Ha ha, yeah, rapping about Air Force Ones. Bling, bling.

WILDCAT: Have you seen any movies lately?

STOUDAMIRE: Run Tel Dat by Martin Lawrence. That was really funny.

WILDCAT: You going to miss Will (Bynum)?

STOUDAMIRE: Will is my dog and it hurts to see him go but he had to do what he had to do.

WILDCAT: Who is the funniest person on the team?

STOUDAMIRE: Isaiah (Fox) is the funniest guy. When I see him I just start laughing.

WILDCAT: Do you still keep in touch with your cousin Damon?

STOUDAMIRE: Yeah, he said he needs to talk to me before this L.A. trip but I don't know why.