Icecats dominate all games over break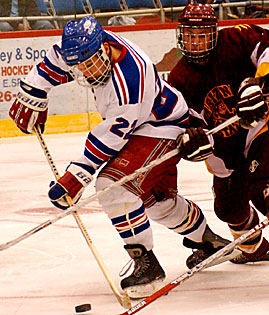 CHRIS CODUTO/Arizona Daily Wildcat

Sophomore forward Shaun Brooks and the Icecats swept two games each over Saint Louis and Northland College. Brooks led Arizona with eight goals during winter break, including two hat tricks.

By Brett Fera
Arizona Daily Wildcat
Wednesday January 15, 2003


The No. 7 Arizona Icecats, paced by sophomore goaltender Bryan Aronchick and sophomore forward Shaun Brooks, started off the New Year in impressive fashion, sweeping both two-game sets against No. 10 Saint Louis and NCAA Division-III Northland College.

On Jan. 3 against Saint Louis, Brooks notched three goals and an assist during the Icecats' 4-2 victory. Senior forward Dave Loftus added two assists of his own as well.

The following night, the Icecats played arguably their best defensive game of the season, defeating the Billikens 2-1, with all three goals scored in the first period, including scores by Brooks and sophomore Mickey Meehan.

After holding onto a one-goal lead late in the third period on Jan.10 against Northland, Brooks added two empty net goals, giving the Icecats a 6-3 win while bringing his team-leading goal total to 17 on the season -- eight in the last three games.

"I just tried to come back from the break in better shape and tried to keep my season progressing forward," Brooks said. "When you work hard, good things start to come from that."

The Icecats then added their eleventh win in twelve games the following night, defeating Northland 6-3 again. Meehan scored two goals to pace the Icecats, while Bill Pardue added a goal and two assists.

Saturday's win over Northland was the 499th of UA head coach Leo Golembiewski's career, spanning 24 years, all with the Icecats.

After heading into their two-week holiday layoff on the heels of a sloppy 6-5 loss to Arizona State, the Icecats knew it would take a better all-around effort to stop its visitors from departing Tucson victorious.

"All four games had the feel of playoff games," Golembiewski said. "Starting off with the sweep against Saint Louis was very important, but the key to all four games was Bryan (Aronchick)."

Aronchick called upon Golembiewski for guidance prior to the series against Saint Louis, in an attempt to regain his focus on the ice.

"I told him to be less concerned with what was happening in front of him and just worry about what he could control," said Golembiewski, a former goaltender himself during his playing career.

Aronchick carried a .927 save percentage, along with allowing just 2.25 goals per game over the four-game stretch, while facing an average of 31 shots per game.

The Icecats next take the ice this Friday and Saturday night against Robert Morris College (IL). Both games get underway at 7:30 p.m at the Tucson Convention Center.