Issue of Winter Break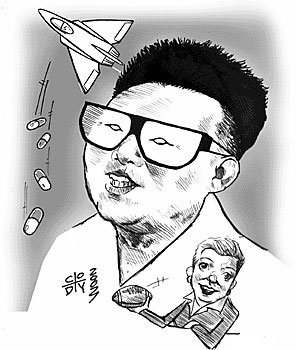 Illustration by Cody Angell

Arizona Daily Wildcat
Wednesday January 15, 2003


On the first day of the spring 2003 semester, we are again plunged back into a life that revolves around school, school, school. From Trent Lott's thoughtless comments to a pending war; from a new Arizona state adminstration to a sprained ankle, we all had a little time to sit down and ponder the news over the break. Here is a reflection on what each columnist thought was the Issue of Winter Break.
---
Napolitano brings fresh approach to state
In November, Arizona elected its first Democratic governor since Bruce Babbitt's last victory in 1982, and last week Gov. Napolitano ÷ it feels so good to say that ÷ was sworn into office. Her inauguration marks the first woman governor ever to succeed another woman governor. It also marks the advent of many important changes in Arizona's state government. In the first six days of her term, two were spent in Tucson, including a Tucson event celebrating of the beginning of her administration.
At her Tucson inauguration celebration, she made numerous statements which had not previously been in the vocabularies of Arizona governors. "All too often, we have balanced the budget on the backs of our children, our future. The time for that is over," she said. After giving UA President Pete Likins a hug, she promised that her budget proposal would protect university funding. "I will fight for you," she assured Likins amidst the flashes of news cameras.
Gov. Napolitano is also preparing to address the problems facing our state's forests. Rather than blaming environmentalists and trying to scare citizens into supporting plans that rob our forests of their oldest, most fire-resistant trees as former Gov. Hull has done, Napolitano is basing her proposals on science.
The new governor means a long-overdue conclusion to bad Republican leadership in Arizona.
Kendrick Wilson is a political science sophomore. He can be reached at letters@wildcat.arizona.edu.
---
College bowl games win over world events
Forget about Iraq and North Korea. Everybody knows where the real headlines emerged from this winter break. They came from places like Pasadena, Miami, Las Vegas and yes, even Seattle. Once again, college football ruled the world. Okay, maybe that's a bit of an exaggeration. Once again, college football ruled America. There, that's better.
For those two or three people who were unlucky enough to have missed the 28 bowl games, let me catch you up with a few of the headlines:
Miami had five turnovers, giving Ohio State reason to believe they could win. The officials ensured a championship for the Buckeyes with a controversial penalty in overtime.
New Mexico gambled on a female place kicker in the Las Vegas Bowl and UCLA walked away with the win despite not having a head coach.
Carson Palmer proved the Heisman voters right as USC dominated runner-up Brad Banks and the Iowa Hawkeyes in the Rose Bowl East (AKA the Orange Bowl).
And so goes another college football season. I guess it's now time to concentrate on issues a little less important, like surging oil prices and strikes in Venezuela.
Hey, don't the Wildcat cagers play USC tomorrow?
Steve Campbell is a senior majoring in Spanish. He can be reached at letters@wildcat.arizona.edu.
---
Heated debate over capital punishment
In a month of news about things that didn't happen ÷ war with Iraq, war with North Korea, nuclear holocaust ÷ things that actually happened had a hard time finding their way onto the front pages. Case in point: the ever more tenuous relationship between state judiciaries and capital punishment.
The most underreported event of the winter ÷ though it was treated with flash-in-the-pan brilliance by the media ÷ was the decision of Republican Illinois governor George Ryan to commute the sentences of the state's 167 death row inmates.
The governor, who at the time of his inauguration was one of the most staunch pro-death penalty politicians in the country, made his announcement with only two days remaining in his term. The declaration came during the same week that prosecutors announced they would seek the death penalty for John Lee Malvo, the juvenile Washington sniper, and California governor Gray Davis said his state would have to build a new facility to house the state's mushrooming death row population.
As resources and consciences become more and more strained in the battle over the death penalty, it will be interesting to see where the breaks fall.
Caitlin Hall is a philosophy and biochemistry sophomore. She can be reached at letters@wildcat.arizona.edu.
---
Military jet noise: the sound of addiction?
This week, two Air National Guard pilots will be investigated for a friendly-fire incident in Afghanistan last spring that killed four Canadian soldiers. The pilots' attorneys are expected to argue that their clients' judgment was impaired because their superiors required them to take Dexedrine, a powerful stimulant known to cause restlessness, overstimulation, irritability, and uncontrollable shaking.
Because of its side effects and high potential for addiction, Dexedrine, or dextroamphetamine sulfate, is tightly controlled ÷ take one as a finals week study aid or to stay awake for a long drive, and you'd be breaking the law. Most medical authorities now caution the public that it should never be used to maintain awareness.
The military insists that Dexedrine use among pilots is voluntary and tightly regulated and that the available dosages are too small to cause harm. But should a powerful narcotic deemed too dangerous for long-haul truckers be available to someone behind the controls of a multi-million dollar war machine?
American military technology has reached the point where a pilot can rain destruction on a country thousands of miles away and make it home in time for breakfast. We should dramatically reconsider the way we apply this power if the habitual use of a potentially addictive drug is its necessary consequence.
Phil Leckman is an anthropology graduate student. He can be reached at letters@wildcat.arizona.edu.
---
U.S. endangers world peace by dodging war
As we celebrated our values freely over the holidays, the United States' policy of making concessions to violent dictatorships put us in a precarious position ÷ backed into a corner facing a three-headed hydra.
While a free Osama bin Laden continues to enjoy witnessing pan-Islamic fundamentalist suicide bombings around the world, the United States missed a window of opportunity to disarm Iraq swiftly and righteously by turning over moral authority to United Nations consensus. Weapons inspectors have asked for more time as U.S. and U.K. troops hang around the Gulf.
Taking cues from Saddam's success, North Korea's Kim Jong Il launched a brazen blackmail campaign against the United States. President Bush is considering offering energy and food aid to the North to prevent it from manufacturing nuclear weapons since its announcement that it would revive its nuclear development program and withdraw from the Nuclear Non-Proliferation Treaty.
Bush has shown dangerous moral weakness with his "one last chance" foreign policy. These criminal regimes have demonstrated that they have the willingness and the technological capability to attack America's interests.
The principles of a free country require that we defend our lives and liberty by removing the threat. The United States must cease seeking United Nations approval and shut down these dictatorships by any means necessary.
Erik Flesch is a geosciences junior. He can be reached at letters@wildcat.arizona.edu.
---
Walton's ankle captures city
There have been a myriad of issues in the world over our winter break. The ubiquitous Ben and J. Lo. Conflicts with Iraq and North Korea. Nuclear weapons. Ben and J. Lo developing nuclear weapons and going to war with Iraq and North Korea. However, one issue stands out more than others for Southern Arizonans:
Luke Walton's ankle.
Walton made yet another comeback last week, contributing in easy wins over the two Washington schools. The importance was not found in any stat line or in the immeasurable leadership Walton's mere presence on court means to his basketball team. The distinction is that the bothersome ankle held up fine and should only get stronger over the course of a grueling Pac-10 season.
Sports history is filled with instances of heroism, from the incomparable feats of Lance Armstrong to a flu-ridden Michael Jordan dropping the hammer on the Utah Jazz to win another NBA title.
Point being, when the chips are down, a real winner will take adversity and turn it into a triumph most mere mortals cannot comprehend.
Come March, Wildcat opponents may learn that an ankle is a long way from a person's heart and not nearly as large either.
Bill Wetzel is a creative writing and political science junior. He can be reached at letters@wildcat.arizona.edu.