Old Sahara Motel will be a private residence hall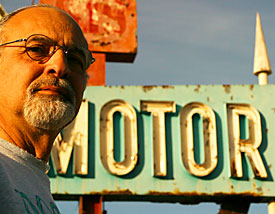 EMILY REID/Arizona Daily Wildcat

Developer Ted Maher surveys the gutted remains of the old Sahara Motel on North Stone Avenue yesterday afternoon. Maher is currently renovating the motel, which will become a dormitory for Pima and UA students.

By Kristian Ramos
Arizona Daily Wildcat
Friday January 17, 2003


Take an old run down motel, add refrigerators, Internet connections and over 600 hundred college students, and what do you get? The Sahara: a new option for students who like the residence hall lifestyle but who may not be able to get housing on campus due to recent housing problems.

The Sahara, located near North Stone Avenue and East Sixth Street, are built to resemble the atmosphere in which students in residence halls on campus live. Residence Life-like personnel such as resident assistants and hall directors will live on the premises .

In the past couple years, obtaining a room on campus has become harder for many students, as housing overflows first forced some students to live in study lounges and hotels, and the housing cap forced upperclassmen out of the residence halls.

"It became apparent that the university did not have the ability to supply beds to the students.

"I'm looking for a need to satisfy, so I started to look in that direction,"said Ted Mehr, owner of TBM Equities, the company that owns the building.

"Demand has been tremendous," Mehr said.

Currently 275 of the 322 double-occupancy units have been reserved.

However, the idea of R.A.'s has some students turned off by the idea of living at The Sahara.

"No, I wouldn't want to live there, after your freshmen year you want more freedom," said Allissa Oaks, a communications senior.

Some students are also concerned with the location of the new housing complex and its distance from campus.

"I wouldn't want to live there. It's a little far Īcause I don't have a car," said Javon Thompson, an architecture freshman.

Comparatively, the cost of living at The Sahara is similar to that of UA residence halls and other student housing complexes throughout Tucson. A 12-month lease will cost between $385 ÷ $485 per person for a double occupancy room at The Sahara. Last year, the average cost of living on campus was $3,436 dollars for the school year ÷ or about $430 a month.

"Its exactly a studio apartment," Mehr said.

Mehr bought the old Sahara Motor Inn in 1995 with the intention of updating it, but after buying the property he found that the previous owner owed nearly $1 million dollars in back taxes.

After five years of legal battles that slowed the renovation process, Mehr found that the market for a hotel was no longer ripe. He then turned to university housing as an option.

The UA has nothing to do with the creation or the maintenance of The Sahara, which is open to UA and Pima students, but gives priority to UA students.

The new complex is scheduled to open Aug. 15.