Park Union closure inconvenient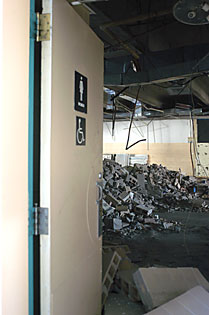 KEVIN KLAUS/Arizona Daily Wildcat

Park Student Union is closed for the next nine months for construction. Students living in nearby dorms now need to walk to the Student Union Memorial Center.

By Kristina Dunham
Arizona Daily Wildcat
Friday January 17, 2003


Carrying a McDonald's bag, Chris Coleman returned home to Coronado Residence Hall yesterday afternoon after walking halfway across campus from the Student Union Memorial Center.

Coleman, an engineering freshman, and residents of the three halls near the Park Student Union, had their convenient food stop on campus closed last month when a renovation and expansion project on the PSU began.

The project, which is expected to last until October, will bring additional eateries, retail shops and meeting areas to the PSU, according to union administrators.

But for the next nine months, students on the west side of campus will have to adjust their daily routines to deal with the union's closure.

"I think it's a hassle," Coleman said.

Coleman said he misses the convenience store in the PSU that he visited almost every day.

Jason Shontz, a pre-business freshman and resident of Kaibab-Huachuca Residence Hall, used to buy all of his groceries next door, but has been forced to find another place to shop.

"It had everything that I needed," Shontz said. "One of the biggest things of the union was that the store was in it. Now you have to walk over to the main union to get stuff like milk. I think it had very good stuff in it already."

Jessie Singer, a Spanish sophomore and Kaibab-Huachuca resident, said that since the union was closed, she started buying more groceries and stocking up at Safeway.

Singer said that she thinks that the new services will help students when they open, "But it's just inconvenient right now."

Plans to renovate the Park Student Union began five years ago, said Arizona Student Unions director, Dan Adams.

"It was in need of some repairs," Adams said.

The projected cost of all the repairs is $4.8 million, and will be funded by university and state funds, said Tamara De Stefanis, program coordinator for the Park Student Union.

Nothing will come from students' pockets.

When completed, the new PSU will be the home of Arizona Student Media and Residence Life offices in addition to the eateries.

The union will also be more accessible for the disabled.

Before the PSU closed, anyone who was unable to climb the stairs or in a wheelchair had to pass through a working kitchen to ride the freight elevator ö the only elevator in the building.

Adams said that the changes to the union should make it a "more well-rounded service to students."

Administrators hope that the finished union will better serve the greater student population, especially those who live in the nearby residence halls.

"We'd like to make it more of a center point ÷ more dining, more services ÷ so students don't have to trek across campus," said De Stefanis.

While many residents have been inconvenienced by the PSU's closure, future occupants of the new PSU are enthusiastic about the construction project.

"We're excited about the renovations and can't wait until they're over with," said Mike Camarillo, KAMP Student Radio broadcast adviser. "We're very, very anxious to move into our new facilities."

Construction crews worked over winter break to remove asbestos from the old building, and according to De Stefanis, the building is now about 25 percent demolished.

Until it re-opens, food vendors will remain outside the union near the volleyball courts.

SafeRide shuttle service from the PSU site to the Student Union Memorial Center will be available from 6:45 p.m. until 4 a.m. daily, as soon as a new van is purchased, De Stefanis said.

Singer, Shontz, and Coleman all said that that they would take advantage of the shuttle service to the union.

"It would be some improvement," Shontz said.