Basketball hangs on at home, beats USC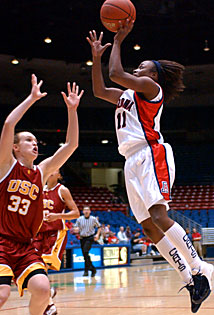 CHRIS CODUTO/Arizona Daily Wildcat

Sophomore guard Dee Dee Wheeler attempts a shot in Arizona's 79-76 win.

By Charles Renning
Arizona Daily Wildcat
Friday January 17, 2003


It was eerie how similar the two games were.

Less than five days ago, Arizona dropped a 60-59 decision to Washington after failing to close out the game with free throws. The Huskies eventually capitalized and made a basket inside the closing minutes to upset the Wildcats.

The Wildcats (11-4, 5-2) held on this time to beat Troy (6-11, 1-5), 79-76, last night at McKale Center in front of 2,395 people. The main problem once again came with missed free throws late in the game.

With less then 30 seconds to go and the Wildcats clinging to a 79-76 lead, junior guard Aimee Grzyb stepped to the line. She was in a similar situation last weekend and missed a couple of free throws that opened the door for the Huskies upset of the Wildcats. Again she missed both free throws and gave the Trojans an opportunity to tie the game.

With time running down, USC's junior guard Rometra Craig got an open look from behind the arc, but missed.

Following a jump ball where possession was given to the Wildcats, Grzyb was fouled again, giving her another chance to put Troy away. Again, Grzyb missed both free throws and after another jump ball, USC got possession with 1.6 seconds left.

A full-court desperation pass was knocked down by Arizona's freshman center Shawntinice Polk and the Wildcats escaped victorious.

"This was a good win," head coach Joan Bonvicini said. "When you lose a game like we did in Washington, it makes players at times second guess themselves. Although we didn't knock (free throws) down, we won a close game and we needed to win this game."

Grzyb said she was confident going to the line, but couldn't get the ball to drop.

"I was really confident (going to the free throw line)," Grzyb said. "I know I'm a good free throw shooter. I'm in the bottom of the barrel right now, but I know I'll work on things. I'm going to shoot 200 free throws tomorrow."

Grzyb, who shot 75 percent from the line last season, has struggled from behind the free throw line this season. Some of that could be due to the fact she has been playing with a strained wrist for much of the year.

"She is a really good free throw shooter," Bonvicini said. "But I think that (her wrist) has inhibited her a little bit."

The Wildcats got a lot of help from sophomore forward Robin Roberson, who started her first game of the season because Polk broke a team rule.

Roberson made the most of her opportunity. She scored 13 points and added eight rebounds in what Bonvicini called her "best performance as a Wildcat."

"Coach told me to come out of my shell and be more aggressive," Roberson said. "That was one of my goals to come in and play really aggressive and rebound."

Besides the unexpected contribution from Roberson, the Wildcats also got big games out of their two stars.

Polk finished the game with her 11th double-double of the season, scoring 19 points and grabbing 12 rebounds.

The Wildcats next game will be Saturday at 2 p.m. in the McKale Center against Pac-10 leader UCLA (11-4, 6-0).