The view from above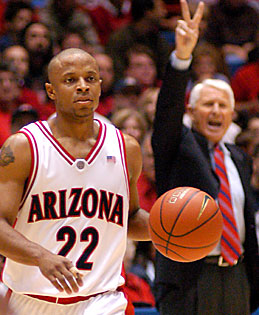 SAUL LOEB/Arizona Daily Wildcat

Senior guard Jason Gardner, currently second in the Pac-10 with 5.0 assists per game, leads the Wildcats into action tonight at home against in-state rival Arizona State.

By Maxx Wolfson
Arizona Daily Wildcat
Wednesday January 22, 2003


In its recent history, the Arizona - Arizona State basketball rivalry hasn't compared to that of its football counterpart.

The football players use words like "hate" and "kill" when talking about the other team in what is one of the nation's oldest rivalries. But when it comes down to basketball, things have been tame between the two schools that meet tonight in McKale Center at 7:30.

With Arizona winning 14 of the last 15 games, some didn't even consider the series a rivalry. But that all changed last year with a scuffle in the second game that left ASU guard Kyle Dodd ejected after an altercation with UA forward Luke Walton, this after the Sun Devils burned the Wildcats 88-72 in Tempe a year ago tomorrow.

"This rivalry is definitely better, especially with them beating us last year up there, we're still upset about that," sophomore forward Dennis Latimore said. "We don't like ASU and they don't like us."
---
Probable Starters
Arizona State
C-Ike Diogu
F-Tommy Smith
F-Jason Braxton
G-Curtis Millage
G-Donnell Knight
Arizona
C-Channing Frye
F-Rick Anderson
F-Luke Walton
G-Jason Gardner
G-Salim Stoudamire
---
The No. 1 Wildcats (13-1,6-0) might also be facing the best Sun Devil team any of the current UA players have gone up against. The Sun Devils (12-5, 4-2) travel to Tucson, winning eight of their last 10 games.
"They are playing very well right now," said UA head coach Lute Olson, who owns a 33-7 record against ASU. "They have nice balance and an inside threat with (Ike) Diogu."
Diogu, just a freshman, has been almost better than expected since he left Garland High School in Texas. His 18.4 ppg mark ranks fourth in the Pac-10, first among all freshmen, and he has scored in double figures in all 17 games this season.
But some people in Tucson are tired of hearing about ASU's big man.
"It's irritating in our own papers to see everyone talking about Ike Diogu, because we have some pretty good post players, too," UA associate head coach Jim Rosborough said.
---
If you go...
Who: ASU at UA
When: Tonight at 7:30 p.m.
Where: McKale Center
TV: Fox Sports Net
Who to Watch: ASU- Ike Digou, UA- Channing Frye
---
Rosborough is speaking of what has become a three-man committee at the center position this season between sophomores Channing Frye, Isaiah Fox and Latimore. Frye will get the nod in the beginning of the game covering Diogu, but each will likely match up against him at some point.
"I'm not focused on me and him," Frye said. "People are going to say this and that. I'm not worried about one person on their team."
That's good because the Sun Devils are more than just a one-man team.
"They have a nice balance," Olson said. "Tommy Smith is one of the most talented players in the league. He is very dangerous when he puts it on the floor. He and Diogu are going to be real keys from the four and five positions. (Curtis) Millage is having a really good, solid year."
But both Smith and Millage struggled in the teams' last meeting in the first round of the Pac-10 Tournament in Los Angeles. Smith just made 2-of-9 shots and scored four points, while Millage, who scored 29-points in last years game in Tucson, was just 4 for 11 and scored nine points.
"There is a lot of experience with Smith and Millage," Olson said.
A key tonight might be the Wildcats' ability to get off to a quick start, something they have been struggling with recently.
"I think it's important," Gardner said. "I think a lot of it is the way we're coming out. I think we're coming out relaxed and cool and we need to have more energy."
If the Wildcats learned anything from last season's games with ASU, a lack of energy tonight shouldn't be a problem.