Former UA swimmer gets her wings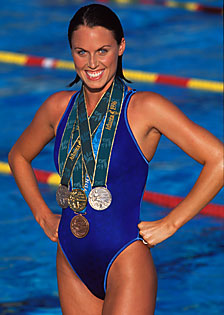 Photo Courtesy of Speedo

Former Arizona swimmer Amanda Beard models her Speedo and shows off her Olympic medals.

By James Kelley
Arizona Daily Wildcat
Wednesday January 22, 2003


The typical UA student just drinks Red Bull energy drink but doesn't endorse it. Amanda Beard, though, is not your typical UA student.

Beard owns four Olympic Medals from the 1996 and 2000 Olympics, including a gold in the 400-meter medley relay in the Atlanta games and two NCAA national championships in the 200-meter breaststroke in two years of being on the UA swimming team. After the two seasons, she turned professional in 2001, giving up her college eligibility.

This month, Beard, who is still a UA student, added Red Bull to her endorsements. She and Ed Moses, who Red Bull expects to make a big place at the 2004 Athens Olympics, are the only swimmers and athletes from a "traditional" sport that endorse the drink.

She will do appearances and Red Bull can use her likeness for marketing. The company's logo will also be on her bags at competitions, said Bobby Brewer, vice president and director of marketing for Premier Management Group, which represents Beard

The deal came about when Beard, who drank Red Bull before signing with the company, was seen drinking it on a pool deck at a competition. After a few phone calls, the deal came about, Beard said.

"They chose me actually," Beard said. "They really wanted to go for a nontraditional person in a traditional sport. It is a great opportunity, Red Bull is a frontier brand and there is nothing like that in swimming."

In addition to the work she does for swimming giant Speedo, Beard's main endorsement, she also endorses usaswimmer.com, has a number of clinics across the United States and does swimsuit modeling.

"At Amanda's level you have to prove yourself," Brewer said. "It is not necessarily about the money, she likes the products."

In 2002, Beard's accomplishments include breaking the American record in the 200-meter breast at the World Cup, winning the 100- and 200-meter breast at Pan Pacific Championships and winning the 200 -meter breast and placing third in the 100-meter breast at the P66 Summer Nationals.

"In order to get endorsements you have to be ranked in the top ten of the world," said Frank Busch, head coach of the UA swimming teams. "The market has grown, but it is tough to get into. It is the elite of the elite."

Beard has two United States swimming national titles in the 100-meter breast and two in the 200-meter breast.

After debuting at the 1996 Olympics at age 14, Beard stumbled in the rankings a bit, falling from being ranked second in the world in both the 100-meter breast and 200-meter in 1996 to a ranking in the 20s in 1997. She reemerged at the UA and in the Sydney games.

"She was so young when she had her success in Atlanta," Busch said. "In her high school years she kind of slipped into a lull. She just came here and blossomed and then had the opportunity to turn pro."

Beard, who has 14 international medals from the Olympics, the Pan Pacific Championships, the World University Games and the Short Course World Championships, was the first Wildcat swimmer to leave early.

"It's a sensitive issue," Busch said. "It is hard to leave the team and hard for the coaches who recruited you. I always felt like the best thing to do is not get in the way and let the person decide what's best for them."

It is often hard for Beard, a retail and consumer sciences junior, to balance her academics with competing at a professional level.

"It is really hard, but I love doing what I'm doing and I'm not giving up swimming or school," Beard said. "It is hard because I have to travel, missing weeks, to go to other countries to compete."

Beard's next competition is in March in Canada, though she says she does not really have a "big" meet until July in Barcelona.