One-on-one with Josh Pastner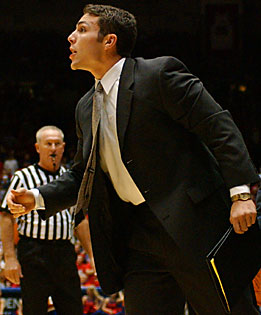 CHRIS CODUTO/Arizona Daily Wildcat

Assistant coach Josh Pastner played in 42 games during his career without any Wildcat losses.

By Brian Penso
Arizona Daily Wildcat
Wednesday January 22, 2003


Assistant coach gives insight on top-ranked Arizona hoops

Josh Pastner, a former UA basketball player and member of the 1997 national championship team, is now a full-time assistant coach with the team. Pastner has been with the Arizona program since 1996 and has worked his way from player, to undergraduate assistant, to the video and recruiting coordinator, and now to his current post.

Wildcat: What is the current health status of Salim Stoudamire and Luke Walton?

Pastner: They're healthy. We are not going to rush them back into everything right now. We are taking them back slowly so they can peak at the right time. They are close to being 100 percent.

Wildcat: Have the Wildcats abandoned the press with the injury to Stoudamire and transferring of former Wildcat Will Bynum?

Pastner: We started out with such great depth from our bench. We still have depth, but injuries have taken their toll, and we don't have that same type of depth. It is a concern, and going into games, we are going to use the press during the game. But we aren't going to press the entire game like we did in the beginning of the year.

Wildcat: What type of rivalry exists between Arizona and Arizona State in basketball?

Pastner: I have been telling everybody that the ASU team that we are going to play is just as good, if not better then any team that we have played this season. They play hard and they are great rebounders. We need to match their intensity to come out on top.

Wildcat: What does it mean to the players to have a chance to play on national television at Kansas?

Pastner: Any time you play on national television, it is great for the players. Kansas is an awesome opponent. It will be a great game, but no one on this team is concerned with Kansas yet. We are focused on ASU.

Wildcat: Are you surprised that Arizona has averaged 85 points per game, with Jason Gardner, Rick Anderson and Luke Walton struggling offensively in comparison to their scoring numbers from last season?

Pastner: That just shows our offensive firepower that we have and the talent that we have on this team. It also shows how unselfish our seniors are. Those guys are only concerned with doing what is best for the team. In their eyes, all they care about is winning.

Wildcat: Did you imagine that André Iguodala and Hassan Adams would have the success that they have had this early in the season?

Pastner: Absolutely. To get excellence, you have to demand excellence. If you want to be the best, you have to expect the best. We demanded excellence from them. Those guys are as good of athletes as you will find in the college game. They are great offensive rebounders. Now all they have to worry about is being consistent. They have the capabilities to be a powerful force.

Wildcat: Olson describes Iguodala as Arizona's defensive stopper. Do you think it is too much to ask Iguodala to guard the opponent's best player night in and night out?

Pastner: As I said, if you want excellence, you have to demand it. We don't look at André like he is a freshman. It is all about production. If André's assignment is to shut down the opponent's best perimeter player, then we expect him to do so.

Wildcat: Are there any areas that UA has to improve on?

Pastner: Most importantly, we have to have a game where we play 40 minutes of Arizona basketball. We need a 40-minute game of focus without silly turnovers. Defensively, we have to get out and defend people and hit our offensive shots. It is all about focus. We all know that we can get better, and that is what is great about this team.

Wildcat: Does the balance of this team compare to the 1997 championship team or the 2000-2001 team that was the national runner up to Duke?

Pastner: In coach Olson's system, the open man is the go-to guy. It is not a one-person show. We have great balance, and now it is a matter of putting the balance together for a 40-minute performance.