Athlete of the Week: Dee-Dee Wheeler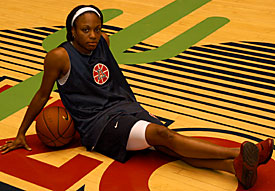 SAUL LOEB/Arizona Daily Wildcat

Sophomore Dee-Dee Wheeler's Pac-10 Player of the Week performance against USC and UCLA also earned her recognition as the Daily Wildcat's Athlete of the Week.

By Charles Renning
Arizona Daily Wildcat
Wednesday January 22, 2003


Sport: Basketball
Position: Point Guard
Year: Sophomore
Major: Pre-Education

Why Wheeler Won: Wheeler was named Pacific-10 Conference player of the week for her play against UCLA and USC. She averaged 25 points and seven rebounds in the Wildcats' two wins. Last season's Pac-10 Freshman of the Year shot a blazing 64.5 percent from the field and 70 percent from behind the arc. This was Wheeler's first player of the week award in her second season with UA.

Wildcat: What was your reaction when you found out that you were named Pac-10 player of the week?

Wheeler: I was happy. I hadn't even thought about it, but I was honored to win it.

Wildcat: You have a big game this week against ASU. Describe that rivalry with the Sun Devils.

Wheeler: Even though their record isn't very good, there is something about a rivalry game. They've beat us the last couple times. We'll be ready for that game.

Wildcat: Everyone was glad to have a day off on Monday. What did you do on your day off?

Wheeler: Our team practiced and I came in and got treatment.

Wildcat: Last year you were the Pac-10 Freshman of the Year. Do you hold hopes of being Pac-10 Player of the Year?

Wheeler: I think if I continue to play the way I have been, maybe I will receive that award. I'd rather win the Pac-10 Championship.

Wildcat: Who do you think will win this weekend's Super Bowl?

Wheeler: I don't even know who's playing.

Wildcat: If you were a super hero, who would you be?

Wheeler: Dr. Dee-Dee. I'd like to be able to make people live forever because I want my grandma to live forever and never leave me.

Wildcat: Who is your favorite band/artist?

Wheeler: It was Aaliyah. It will always be Aaliyah.

Wildcat: What is your favorite thing to do when you are not playing basketball?

Wheeler: Shop.

Wildcat: UConn's women's basketball team just set the record for most consecutive wins. How impressive is that?

Wheeler: That's great. I'm happy for them. If I hadn't come to Arizona I would have gone to UConn.

Wildcat: If you had $1million, what is the first thing you'd buy?

Wheeler: I'd buy my grandma a bigger house with maids and people serving her, so she never has to do anything else in life. She's done everything for me and I'd like to return the favor.

Wildcat: If you could meet anyone, dead or alive, who would it be?

Wheeler: Martin Luther King.

Wildcat: Name one thing you are afraid of.

Wheeler: Myself.