Admissions may get tighter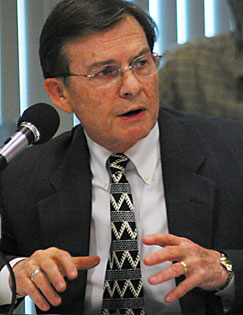 DAVID HARDEN/Arizona Daily Wildcat

UA President Pete Likins discusses plans for new admissions standards yesterday.

By Jeff Sklar
Arizona Daily Wildcat
Friday January 24, 2003


Arizona high school students may have to face differing admissions standards at each of the three state universities, if the Arizona Board of Regents adopts either of two admissions scenarios they discussed yesterday.

University presidents and several regents expressed interest in granting automatic admission to fewer in-state students and allowing universities to make individualized admissions decisions.

Under both scenarios presented, students who rank in the top 25 percent of their classes would be guaranteed admission to all three universities.

One scenario would limit guaranteed admission to those students.

The other maintains current standards that automatically accept students with a 3.0 GPA, an SAT score of 1040 or an ACT score of 22.

Both scenarios also eliminate the policy that guarantees admission with conditions to students who rank in the top half of their class or who maintain a 2.5 GPA.

"This system puts (on) the onus of the universities the responsibility to make sure students are successful," said NAU President John Haeger.

Under both proposals, universities would develop their own sets of standards for admitting students who don't meet the higher criteria.

For UA President Pete Likins, those new criteria could give him greater flexibility to admit students whose grades and test scores are low, but who display other characteristics that could hint toward college success.

Those applicants could be evaluated based on leadership characteristics, or whether they're members of an ethnic minority or family with a history of not attending college, among other factors.

"We could look at all kinds of characteristics that could never be codified by regents," Likins said.

If only the top quarter of in-state high school students were automatically admitted, the UA would have greater discretion over the fate of about 35 percent of in-state freshmen, who under current policies would be automatically admitted.

Many of those people, though, would likely still be accepted after university admissions officers reviewed their complete application, Likins said.

Admission standard changes may take effect for the class entering in the Fall of 2004, but Likins cautioned that noticeable differences in the class makeup could take five years or longer to see.

Regent Tom Horne, Arizona's new superintendent of public instruction, challenged Likins to provide data that some students can succeed in college despite low grades and test scores.

Likins pointed to the UA's Strategic Alternative Learning Techniques Program, which serves students with learning disabilities. SALT boasts a 75 percent graduation rate even though its students don't meet what Likins calls traditional profiles for academic success.

"We need to make admissions decisions · that enable our students to graduate," he said.

UA officials have not developed specific procedures for admitting students under the scenarios regents discussed yesterday. However, Provost George Davis said after yesterday's meeting that the UA's procedure would probably differ from the University of Michigan's, even if the U.S. Supreme Court upholds their procedure as constitutional.

At Michigan, applicants belonging to an ethnic minority are awarded points based on their race.

Regents will discuss the proposals again at their meeting in March.

Keren G. Raz contributed to this report.