Garage will offset loss of spaces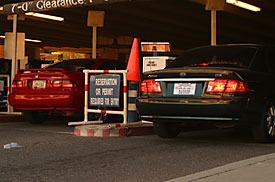 DAVID HARDEN/Arizona Daily Wildcat

Finding parking spots during peak hours at UA can be tough in both garages and surface lots. PTS believes the completion of the Sixth Street garage will help alleviate the problem.

By Cara O'Connor
Arizona Daily Wildcat
Friday January 24, 2003


Finding somewhere to park on campus may be a little easier this semester.

Expanded surface lots and the completion of the Sixth Street garage, in addition to more Zone 1 spaces, will help alleviate the parking crunch that UA drivers experienced last semester

Construction on the Sixth Street garage is supposed to be completed next month.

The five-level garage will provide an additional 900 spaces for students, faculty and staff, according to Parking and Transportation Services Director Patrick Kass.

During winter break, PTS split 100 new parking spaces between two Zone 1 lots.

The new lots are helping to accommodate more UA students as there are more than 1,000 additional students enrolled this semester compared to last.

This semester, PTS issued 15,400 parking permits for 11,000 parking spaces.

The ratios of permits and spaces are consistent with previous years.

Approximately 1.4 permits per garage space and about 1.6 permits per Zone 1 space were sold this year.

However, new construction will begin in February on the lot next to Cherry garage to accommodate the 18-month-long Optical Sciences building project, said Gary Thomson, assistant director of PTS.

To offset the loss of spaces, PTS plans to add a new Zone 1 lot just west of the College of Pharmacy and more off-campus lots with shuttle services for next fall.

PTS also plans to begin construction on a garage north of Speedway Boulevard during the summer of 2004. The garage will be located somewhere in the block between East Helen and Mabel streets and North Highland and Vine avenues.

Despite efforts by PTS, finding a parking spot is still, in many cases, just a matter of timing.

According to Kass, Zone 1 lots in the core of campus generally fill up before 8:30 a.m.

"You have to leave extra early to make sure you can get a parking spot," said Brieanne Taylor, an elementary education freshman.

However, lots south of Sixth Street and north of Speedway Boulevard almost always have open spaces, Kass said.

Cat Tran shuttles regularly run to and from campus. However, many students still opt to walk to class.

"I wish that they could add more spaces that are closer to class," said Lindsay Martin, an undecided freshman who parks south of Sixth Street.

While the additional spots have helped ease the parking problem this semester, university construction projects beginning in the summer will limit the number of Zone 1 spaces available in the fall.

Beginning this summer, 750 spaces will be lost to construction of the Drachman Science building and the Institute of Biological Science building over existing Zone 1 lots between Helen and Mabel streets just south of UMC.