On the Spot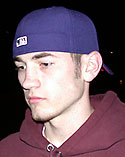 Lee Herman
undecided freshman

By Jeff Sklar
Arizona Daily Wildcat
Friday January 24, 2003


He may or may not have the Īskills' to be an engineer, but he'll do it anyway, for the big bucks

WILDCAT: There seem to be lots of undecided majors around here. Anything strike your fancy?

HERMAN: I'm actually looking to go into something engineering. Probably materials science and engineering.

WILDCAT: Interesting. I don't know a thing about that.

HERMAN: Me neither.

WILDCAT: But you want to major in it?

HERMAN: A couple of my high school teachers told me that was the field to get into.

WILDCAT: What for?

HERMAN: Money.

WILDCAT: Ah, so that's why you're at the UA. It's money.

HERMAN: Of course. Why is anybody here?

WILDCAT: So you have no idea in the world what they do?

HERMAN: Actually I know a guy who was a materials science engineer and he's a VP for Intel.

WILDCAT: That's a pretty good endorsement of the field.

HERMAN: Works for me.

WILDCAT: You think you've got the skills to be a VP for Intel?

HERMAN: Of course. I got the skills. I will go pro.

WILDCAT: Show me the skills.

HERMAN: I got no skills. I got none.

WILDCAT: So we're a week into classes. How are they going?

HERMAN: Not too bad. Better than last semester. I think I've been to more classes this semester that I did last semester.

WILDCAT: All last semester?

HERMAN: Yes.

WILDCAT: That must not have been good for your GPA. What'd you get, like a 0.2?

HERMAN: Actually I had a 2.8.

WILDCAT: That's not bad. And now the whole university will know that too.