Kiss my Kansas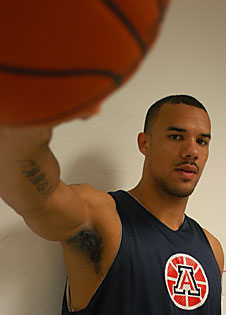 KEVIN KLAUS/Arizona Daily Wildcat

Sophomore forward Dennis Latimore returns to his home state tomorrow when the No. 6 Jayhawks of the University of Kansas host top-ranked Arizona at Allen Fieldhouse.

By Maxx Wolfson
Arizona Daily Wildcat
Friday January 24, 2003


Sophomore forward makes return to Allen Fieldhouse, this time with an Arizona Wildcat uniform

It takes a lot to get Dennis Latimore excited. Usually quiet and soft-spoken, the sophomore forward gets pumped up for games in his own way, but odds are, Latimore will be more ecstatic than usual tomorrow.

Latimore, who is playing the best basketball of his young career, will get his first chance to show off his game ÷ in the building he went to camps at during his childhood ÷ tomorrow at 11 a.m. MST in Kansas' Allen Fieldhouse.

"I'm looking forward to it," he said. "But I'm not looking forward to the cold at all."

Latimore grew up in Halstead, Kan., which is more than 100 miles from Lawrence, but he frequented the Kansas campus often to go to games and play in camps taught by current Jayhawk coach Roy Williams.
---
Lineups
Arizona (14-1, 7-0 Pac-10)
C-Channing Frye
F-Luke Walton
F-Rick Anderson
G-Salim Stoudamire
G-Jason Gardner
Kansas (13-4, 3-1 Big 12)
C-Jeff Graves
F-Kirk Heinrich
F-Nick Collison
G-Keith Langford
G-Aaron Miles
---
The 6 foot 8 inch forward is also the only member of the UA basketball team to have seen a game in the historic fieldhouse.
Not even head coach Lute Olson has coached a game there in his 30-plus year career.
"I told them it's like playing at Oregon, but it's three times the size," Latimore said. "The atmosphere, the students and the rich tradition makes it crazy in there. They have so many more students at the game then we have here."
While in high school, Latimore was one of the best in the state of Kansas. He was the 3A Player of the Year in his senior season and was the Kansas Gatorade Player of the Year in his junior year.
---
Mark it
Who: No. 1 UA @ No. 6 Kansas
When: 11 a.m. MST Tomorrow
Where: Allen Fieldhouse in Kansas
---
But when it came down to choosing a school, Latimore wanted out of Kansas.
"It was between here and UCLA," he said. "I definitely looked there. I committed to Arizona early, though, because of a variety of things with the players and the coaches, players in the NBA and the success of the program in the '90s."
Latimore's decision to go to Arizona was not completely unexpected, as he spent one year in Mesa when he was in high school and lived with his dad before returning to Kansas because of personal reasons.
But his stint in Mesa might be the reason Latimore is a Wildcat today.
"We were watching Dennis when he was a senior in high school in Mesa," Olson said. "He used to go to our games."
Latimore got his first chance to play against Kansas last season, where he scored five points and had seven rebounds in the Wildcats' 105-97 loss in McKale Center.
But this time around, Latimore is not the same player he was as a freshman.
"He has matured so much over the last year," fellow sophomore Channing Frye said. "He comes to play every time he gets in the game."
This season, Latimore has been contributing on the defensive end as well as with the offense. He is averaging almost 15 minutes, plus four points and four rebounds per game.
"One big improvement this year is that he is a sophomore and he knows what's going on," UA associate head coach Jim Rosborough said. "He has changed his body style a little bit. He is in very good shape this season and runs very hard. Plus, he has worked hard on his post moves."
That added speed and size will help in tomorrow's game, where Latimore will likely cover Jayhawk forward Nick Collison, who can put the ball on the floor or take it from the post.
If he can contain Collison and his Wildcats can get a win on the road, it's likely that Latimore, for once, will have a lot to say.
Five things you should know about the game:
1. Kansas lost Wednesday night to Colorado for the first time in 27 games.
2. The Jayhawks are the nation's top scoring team (88.4 points per game). The Wildcats rank fourth at 85.5 ppg.
3. UA center Channing Frye will start the game on Kansas' Nick Collison, but UA head coach Lute Olson said both Dennis Latimore and Isaiah Fox will cover the Jayhawks' leading scorer.
4. Last meeting: Eighth-ranked Kansas won 105-97 in McKale Center on Dec. 1, 2001. Jason Gardner set a school record with eight three-pointers and finished with a career-high 34 points.
5. After sitting most of the second half against Arizona State on Wednesday, Olson said Salim Stoudamire is going to start on Saturday. He was benched because he was struggling with rebounding the ball on the weak side of the Wildcats' zone defense.