OF Candace Abrams, So.

A redshirt sophomore who started in right field. Abrams started 21 games last season, while accumulating a .293 batting average with two home runs.

---

OF Courtney Fossati, So.

Batted .342 last season, mostly in the No. 2 spot. The lefty started in 48 games and was flawless in the field.

---

OF Autumn Champion, Fr.

A speedy leadoff hitting freshman from Tustin, Calif. was a four-time Orange County All-District first-team member and two-time All-American.

---

OF Crystal Farley, So.

Started 60 games last season and batted .255 in Pac-10 play. At 5 feet 9 inches tall, Farley will provide speed to the Arizona lineup.

---

1B/P Wendy Allen, Jr.

A transfer from Ohio State was the 2002 Big Ten Player of the Year and a second-team All-American before coming to Arizona.

---

2B Lisha Ribella, Sr.

A senior known for her stellar defensive play, earning a .956 fielding percentage last season while leading UA with five double plays. Batted .224 last season.

---

3B Jackie Coburn, So.

Earned Women's College World Series All-Tournament Honors, following a freshman season that saw14 home runs and 49 RBIs.

---

SS Lovieanne Jung, Sr.

One of two seniors to start all 67 games. Led the Wildcats in: batting average (.364), runs (64), hits (75), extra-base hits (31) and walks (44). All-Pac-10 and Pac-10 Newcomer of the Year.

---

P Alicia Hollowell, Fr.

The reigning 2002 Gatorade national high school softball Player of the Year and a two-time All-America honoree.

---

C Mackenzie Vandergeest, Jr.

She holds the UA record with 577 put-outs. Vandergeest earned All-Pac-10 honors while hitting 12 home runs and three grand slams.

---

Head Coach Mike Candrea

Candrea has guided Arizona to six national titles and six Pac-10 championships since 1991. In 16 seasons, Candrea has an impressive 871-172 overall record and a .835 winning percentage.

---

Assistant Coach Nancy Evans

Will start her second season as an assistant coach. A 1998 UA graduate with a degree in psychology, Evans took home the 1998 Honda Softball National Player of the Year Award to go along with three national championships.

---

Assistant Coach Larry Ray

Coached for five years for the University of Florida from 1996-2000, accumulating a 169-106 record, including two NCAA tournament berths.
Fresh faces on the mound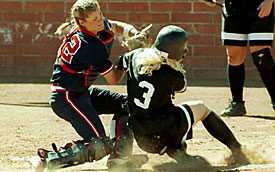 FILE PHOTO/Arizona Daily Wildcat
Junior catcher Mackenzie Vandergeest and the Arizona softball team return to Hillenbrand Stadium this season, looking to make a run at a third straight national title game appearance.
Exhibition games will be preseason test for freshmen
The infielders are the same. And the outfielders haven't changed.
So what's different about the UA softball team in comparison to last season's runner-up in the 2002 College World Series Championship game?
It's their experience on the mound.
---
Schedule
Exhibitions
· 01/24 Phoenix College
· 01/25 Alumni Game
Louisville Slugger Tournament Tampa, FL
· *01/31 Sam Houston St.
· *01/31 Florida Atlantic
· *02/01 Auburn
· *02/01 South Florida
· *02/02 Northwestern
Fiesta Bowl Tournament Phoenix
· *02/07 Fiesta Bowl Tournament
· *02/08 Fiesta Bowl Tournament
· *02/09 Fiesta Bowl Tournament
Pepsi Arizona Softball Classic
· 02/14 Minnesota
· 02/14 Northwestern
· 02/15 Florida International
· 02/15 Arkansas
· 02/16 Washington
Worth Wildcat Invitational
· 02/21 Drake
· 02/21 Oklahoma St.
· 02/22 Virginia
· 02/22 Western Mich.
· 02/23 New Mexico
Hillenbrand Invitational
· 02/28 Northern Iowa
· 02/28 San Diego St.
· 03/01 New Mexico St.
· 03/01 Northern Iowa
· 03/02 San Diego St.
Kia Klassic Fullerton, Calif
· *03/13 Florida St.
· *03/13 Louisiana-Lafayette
· *03/14 Long Beach St.
Exhibition
· *03/21 Canadian National
Regular season
· 03/22 Cal Fullerton (DH)
· 03/28 Oregon St.
· 03/29 Oregon
· 03/30 Oregon
· *04/04 @Washington
· *04/05 @UCLA
· *04/06 @UCLA
· 04/11 Stanford
· 04/12 California
· 04/13 California
· 04/18 Arizona St.
· 04/19 Arizona St.
· *04/23 @Arizona St.
· *04/25 @Oregon
· *04/26 @Oregon St.
· *04/27 @Oregon St.
· *05/02 @California
· *05/03 @Stanford
· *05/04 @Stanford
· 05/09 UCLA
· 05/10 Washington (DH)
---
"Last year we were young, but not young on the mound. That's the biggest difference," UA head coach Mike Candrea said. "This team is going to have to do the little things and we're going to have to put runs on the board early on. We have to do it all."
Four freshmen will wear the Wildcat uniform for the first time.
Among the recruits are three pitchers: Alicia Hollowell from Fairfield, Calif. and Leslie Wolfe and Michelle Schultz öö who will also play first and third base öö from Phoenix.
In the outfield, the Wildcats have freshman recruit Autumn Champion from Tustin, Calif.
Champion will lead off UA's offense, and carries the speed for the Wildcats.
While it may be hard to fill the absence of players such as graduated pitcher Jennie Finch and would-be junior and power hitter Leneah Manuma ÷ who left the team for academic ineligibility ÷ Champion is not concerned.
"I don't get nervous very easily," she said. "It's not about one person anymore. We'll be fine as long as we come together and play as a team."
The Wildcats will have their first opportunity this afternoon with a home exhibition against Phoenix College.
Tomorrow, UA takes the field in an alumni game, which according to Candrea, is less serious and more fun.
The Wildcats will then honor the 1993 Championship team.
"Both games are very important to see where we're at and it's going to be about being a team and competing as a team," sophomore third baseman Jackie Coburn said. "It's still going to be a good year. We have new faces but we do have people who can fill in."
While the nine starting positions haven't been determined, UA will look to the experience of senior shortstop Lovieanne Jung and second baseman Lisha Ribellia to help guide its younger players.
After closing the 2002 season with a 6-0 defeat of California in the College World Series Championship game, Arizona has been picked to finish second in the Pacific-10 Conference.
The Wildcats ended last season with a 55-12 record, 15-6 in the Pac-10.
UCLA finished the Pac-10 coaches' poll with 46 votes.
UA tallied 44 votes. Washington earned 33 votes, followed by a tie between Cal and Stanford, then ASU, Oregon State and Oregon rounded out the list with just seven votes.
Although he was satisfied with his team's No. 2 ranking, Candrea doesn't look at that as any sort of indicator of the long season ahead.
"I don't get into the rankings," Candrea said. "The only important ranking is the last one. It's a process to be a good team and there'll be bumpy roads. But things will pay off for us."
The Wildcats will take the field today at 3 p.m. and tomorrow at noon. Both games will be played at the Rita Hillenbrand Memorial Stadium.