C Nick Hundley, Fr.

Prized freshman recruit, picked in the fifth round of the MLB Amateur Draft. Has great speed for a catcher.

---

1B Pat Reilly So.

A redshirt freshman last season, was second on team in batting at .317. Had 265 putouts ÷ including an NCAA single-game record with 29 against Stanford.

---

2B Trevor Crowe, Fr.

Another MLB draftee, the switch-hitting Crowe received multiple state player-of-the-year awards as a senior at Westview High in Portland, Ore.

---

3B Moises Duran, Jr.

Started at second last season, showing surprising power for his position with 9 homers and a .515 slugging percentage while being a threat on the basebaths.

---

SS John Hardy, So.

Team leader in hitting last year at a .328 clip. With the departure of Brad Hassey, Hardy returns to his natural position of shortstop after playing most of last year at third.

---

SP Sean Rierson, Jr.

Led Arizona in wins (7) and innings pitched (117) while posting the third-best ERA (4.69) on the team as a sophomore last season.

---

SP Joe Little, Jr.

Southpaw returns as No. 2 starter after pitching the second-most innings (97) and winning 6 games last season. Little may be the best pitcher in the rotation, according to Lopez.

---

SP Richie Gardner, Jr.

Transferred in from Santa Rosa (Calif.) Junior College, posted a team-best 1.13 ERA in fall ball with the Wildcats.

---

CP Mark Worrell, So.

Joins Arizona after one season at Indian River (Fla.) Community College, where he was named Baseball America's top junior

college pitcher in the nation.

---

OP Brian Anderson, Jr.

Considered the top returning position player, but still recovering from arm problems. Freshmen Brad Boyer and Chris Frey, along with junior Dallas Haught, are expected to be the opening day starters.

---

Head Coach Andy Lopez

Has led three teams to the College World Series during his 20-year career. The two-time national coach of the year led Pepperdine to the 1992 National Championship.

---

Assistant Coach Mark Wasikowski

A former player under Lopez at Pepperdine, begins his sixth season on Lopez's staff, following the head coach from Pepperdine to Florida and on to Arizona last season.

---

Pitching Coach Jeff Morris

A member of Arizona's 1980 National Championship team, begins his second season heading up the pitching staff under Lopez.
Lopez looking for improvement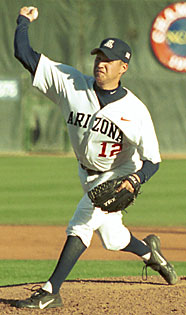 File Photo
Junior Sean Rierson went 7-5 last season with an ERA of 4.69. Rierson started 17 games last season as the Wildcats finished 31-24.
By David Stevenson
For the second straight season the Arizona baseball team has retooled its roster. But instead of a new coach, this year, Arizona overhauled its players.
Last year, head coach Andy Lopez, who inherited the entire Wildcat roster filled by his predecessor Jerry Stitt, led UA to 31-24 overall record and posting a 9-15 finish in the Pacific-10 Conference. In his second go-round, Lopez will have 24 new players on the roster. The new players have caused Lopez to juggle the starting positions leaving a few unanswered questions.
Historically, Lopez's second year with a program has seen improvement. Dominguez Hills, Lopez won 10 more games than in his first year. At Florida in 1996, also his second year, the Gators won 18 more games.
---
Schedule

Day	Date          Opponent	
Thu	01/30/2003    BYU
Fri	01/31/2003    BYU
Sat	02/01/2003    BYU
Fri	02/07/2003    Baylor
Sat	02/08/2003    Baylor
Sun	02/09/2003    Baylor
Fri	02/14/2003    @UC Irvine
Sat	02/15/2003    @UC Irvine
Sun	02/16/2003    @UC Irvine
Fri	02/21/2003    Minnesota
Sat	02/22/2003    Minnesota
Sun	02/23/2003    Minnesota
Mon	02/24/2003    Oklahoma St.
Fri	02/28/2003    Texas A&M
Sat	03/01/2003    Texas A&M	
Sun	03/02/2003    Texas A&M	
Fri	03/07/2003    @Texas	
Sat	03/08/2003    @Texas	
Sun	03/09/2003    @Texas	
Tue	03/11/2003    Portland	
Wed	03/12/2003    Portland
Thu	03/13/2003    Wagner
Fri	03/14/2003    Wagner
Sat	03/15/2003    Wagner
Tue	03/18/2003    @NewMexico
Wed	03/19/2003    New Mexico
Fri	03/21/2003    USC
Sat	03/22/2003    USC
Sun	03/23/2003    USC
Fri	03/28/2003    @UCLA
Sat	03/29/2003    @UCLA
Sun	03/30/2003    @UCLA
Fri	04/04/2003    Miami Ohio
Sat	04/05/2003    Miami Ohio
Sun	04/06/2003    Miami Ohio
Fri	04/11/2003    Washington
Sat	04/12/2003    Washington
Sun	04/13/2003    Washington
Mon	04/14/2003    Sacramento St.
Thu	04/17/2003    @Washington St.
Fri	04/18/2003    @Washington St.
Sat	04/19/2003    @Washington St.
Tue	04/22/2003    @Grand Canyon
Fri	04/25/2003    @Stanford
Sat	04/26/2003    @Stanford
Sun	04/27/2003    @Stanford
Mon	04/28/2003    @Sacramento St.
Fri	05/02/2003    California
Sat	05/03/2003    California
Sun	05/04/2003    California
Sat	05/17/2003    Oregon St.
Sun	05/18/2003    Oregon St.
Mon	05/19/2003    Oregon St.
Fri	05/23/2003    @Arizona St.
Sat	05/24/2003    @Arizona St.
Sun	05/25/2003    @Arizona St.
---
"I've had a lot of second years, and I've gone down this road before," said Lopez, who is in his 27th year of coaching. "There's some real exciting things I think that will happen this year and there will be some times where we will look very young."
UA returns five starters that peg freshmen Trevor Crowe and Brad Boyer as the leading candidates to play second and center field respectively. Of the 24 newcomers six are sophomores and 15 are freshmen.
"With the exception of (the returnees), everyone else is brand new," Lopez said. "We're talking not red shirt freshmen but flat out if they're shaving."
The roster lost four seniors to graduation. The biggest loss is leadoff hitter Brad Hassey who started all 55 games at shortstop and led the team with 15 steals. This year, Arizona doesn't have an automatic threat on the base paths according to Lopez, giving him a slew of new choices with the likes of Boyer, Crowe, freshman Nick Hundley and sophomores Moises Duran and John Hardy, Lopez said.
Junior starting pitchers Sean Rierson and Joe Little lead a revamped staff but are fighting each other to become the regular Friday starter. Rierson (7-5, 4.69 ERA last season) held the ace position for two straight years but Lopez said Little's strong performance in workouts have left the slot open between the two.
Third starter Richie Gardner and closer Mark Worrell are both new pitching additions. Along with Rierson and Little, experienced seniors Brian Pemble and Wes Zlotoff, plus juniors Chris Goodman and Scott Burns, will have to tutor the rest of the new relief corps.
"You have to get the new guys used to the program quickly so they can help things flow more smoothly," Pemble said. "Once everyone is on the same page, that's when things click and we're getting close."
Another big question Lopez must answer regards the middle of his lineup. Everyday three-hole hitter Brian Anderson may miss the first two weeks of the season to recover from wrist surgery. The junior also underwent shoulder surgery earlier in the fall.
Lopez is also undecided at the moment as to who the fourth hitter will be. Last season's cleanup hitter Chris Cunningham hit 13 home runs and posted a .566 slugging percentage. Lopez said freshman Dallas Haught may get the chance to fill hole once he is healed from an off-season injury.
Despite the glaring decisions, Lopez said the Wildcats would be ready for their opener. In the fall, Arizona crammed 14 inter-sqaud scrimmages in a three-week period in October that allowed players in their first season to adapt well to the routine practices.
"It hasn't been too bad because it's taken a couple days to adjust. A lot the older guys have shown us how to work hard and be a leader out there on the field," Boyer said.