Solid start for tennis newcomer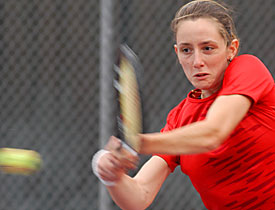 CHRIS CODUTO/Arizona Daily Wildcat

Tennis newcomer Emilie Scribot was impressive in her first match of the season yesterday, leading Arizona to a 6-1 victory over visiting San Diego yesterday.

By Brian Penso
Arizona Daily Wildcat
Friday January 24, 2003


Last month, Arizona women's tennis player Emilie Scribot was nothing more then a normal 22-year-old looking for a school to obtain a graduate degree from

Now, the French native is the No.1 tennis player for the 20th-ranked Wildcats.

After joining the team two weeks ago, Scribot made her Tucson debut yesterday in UA's first spring match, versus the San Diego.

Scribot's effort was one of the many highlights of Arizona's 6-1 win over USD.

"It was a good win for us," UA head coach Vicky Maes said. "The girls were a little rusty, but the win gives us confidence going into tomorrow."

Scribot's first team match was anything but smooth, but she managed to win in straight sets 6-4, 7-6 (7-2).

The storybook beginning of Scribot's career began with an ace on her first serve.

After taking a commanding 3-1 lead in the first set and a chance to open the match wide open, Scribot lost game four on her serve, going on to lose two straight games while on serve.

With the score tied at 4-4, an upset Scribot began to become flustered on the court.

With the first set beginning to slip away, Scribot bounced back and took the set 6-4.

"Emilie is a tough competitor," Maes said. "She has a tendency to start off strong and then dig herself a hole. But she just joined the team and is getting adjusted to school and practice."

In the final six games, Scribot was leading 30-love in two games and was unable to finish strong, which allowed the second set to go to a tie-breaker.

As the tie-breaker began, the entire UA team assembled to watch the match.

Scribot came out on fire and breezed to a 7-2 win in the tiebreaker, giving her the victory in the match.

"It was awesome being part of a team," Scribot said. "At the end of the second set, it was great having the girls support."

The Wildcats return to action this afternoon at 1:30 at the LaNelle Robson Tennis Center as they host Marquette University.