Makin' room for grads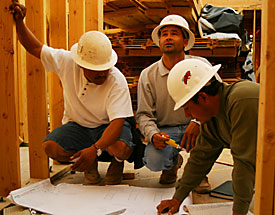 DAVID HARDEN/Arizona Daily Wildcat

Juan Hernandez, supervisor Carmelo Moreno and foreman Jorge Vazquez look over blueprints for La Aldea, the graduate housing complex being built between Tyndall Parking Garage and Coronado Residence Hall.

By Bob Purvis
Arizona Daily Wildcat
Monday January 27, 2003


The UA's first privately funded housing complex, La Aldea will offer on-campus graduate housing 3 years after closure of Christopher City apartments

It might look like a bunch of wood now, but soon it will be the southwestern-style home of more than 300 graduate students and families.

La Aldea, a $20 million, 163-room graduate housing complex, located at North Euclid Avenue and East Fifth Street, will offer one- , two- and four-bedroom apartments. Each apartment will be equipped with high-speed Internet connections as well as access to private business and fitness centers.

The development will help replace Christopher City, a graduate and family housing complex near North Fort Lowell Road and East Columbus Boulevard that closed in 2000 due to a mold infestation.

"We are very excited about the project. It is the embodiment of the commitment the University made when we had to close Christopher City," said Jim Van Arsdel, director of Residence Life.

Ambling Companies and Property Management, private housing firms, are building the housing complex and plan to work hand in hand with the UA to offer affordable and convenient housing to graduate students, said Elizabeth Monta–o, a Property Management representative.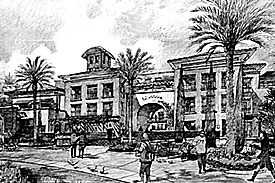 COURTESY OF AMBLING COMPANIES
An artist's rendering of the finished product, which will be the first privately funded and developed housing complex on University property.
The company will also handle daily operations after La Aldea opens to graduate students later this summer.
The complex will be the first privately funded and developed housing complex to be built on UA land.
Residence Life leased the land for La Aldea to a private company, so it can focus primarily on existing dorms and undergraduate housing, Van Arsdel said.
While rates have not yet been set they are expected to be comparable to other student housing. Students will rent from Ambling, who will have onsite officials, Monta–o said.
All tenants will also be obligated to follow the same code of conduct that applies to all other on-campus housing facilities.
Some students questioned the need for on- campus graduate housing but agreed that the convenient location made La Aldea tempting.
"I think by the time you are a graduate student you should have the ability to live on your own," said Kirin Wachter-Grene, a junior majoring in English. "The location is pretty hot though."
Despite the on-campus location, some graduate students fear La Aldea will not accommodate their lifestyles.
"Personally, I wouldn't consider it. I have a life outside of school. It wouldn't fit in to raising my son," said Carol Ostrander, a gerontology graduate student.
However, Monta–o said that Property Management is confident that La Aldea's location and amenities will make it desirable to the serious graduate student.
The housing will create at least ten jobs, including management and maintenance positions, most of which they hope to fill with UA students, Monta–o said
"We are excited to get started," said Monta–o, "We will be doing a lot of programs alongside the U of A."
Students can begin moving in to the complex at the end of July.