New focus for debate on tuition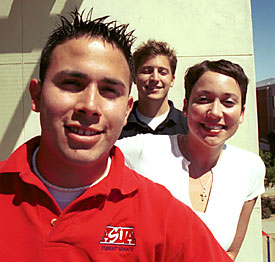 DAVID HARDEN/Arizona Daily Wildcat

Former student body president Ray Quintero (left) and lobbyists Denny Marta and Jenny Rimsza fought for a "0 percent" tuition increase last spring. This year's lobbyists will not take that stance, student body president Doug Hartz said Friday.

By Jeff Sklar
Arizona Daily Wildcat
Monday January 27, 2003


When President Pete Likins called last year for a 12 percent tuition hike, UA student lobbyists countered him with a proposal they said would protect students from being victimized by a cash-starved legislature.

Don't raise tuition, the lobbyists told the Arizona Board of Regents.

The regents raised tuition, but not nearly as much as Likins had hoped.

Around that time, Doug Hartz, the then-student body president-elect, had hinted that during his presidency, he might be more willing to accept a tuition hike.

On Friday, Hartz, now the UA student body president, went a step further.

Student lobbyists will not propose a zero percent tuition hike this year, he said.
---
Tuition and Fee settings for 2003-2004
December 2002 ÷ January 2003
· University presidents meet with student leadership
Prior to the February tuition hearing
· Distribution of Annual Student Financial Aid Report
Feb. 3, 2003
· Public notice of tuition hearings
· UA, ASU and NAU disclose all proposed tuition and fee increases
Feb. 27, 2003
· Tuition hearing
March 6 and 7 (Board Meeting)
· Regents to set all tuition, mandatory fees
· Regents to take action on residence hall rates
· Regents to review preliminary financial aid set aside
April 24 and 25, 2003
· Set remaining fees
---
Though they have not yet proposed a specific increase, student lobbyists are joining many regents and others historically opposed to tuition hikes with their openness to the possibility of an increase.
Since last fall, when the Arizona Board of Regents unveiled a plan allowing the three state universities to forge distinct identities and decrease their dependence on the legislature, tuition talk across the state has taken a sharply different tone.
That tone is one that is more welcoming of a $1,000 in-state undergraduate tuition hike coupled with a substantial increase in need-based financial aid.
As she left the regents' meeting Friday, Democratic Gov. Janet Napolitano said she would support a $1,000 increase.
"Our universities will not thrive unless a reasonable tuition is charged," she said.
Napolitano will have a vote when the regents set tuition at their meeting March 6 and 7. If she supports a large tuition hike, it would be in stark contrast to her predecessor, Republican Jane Dee Hull. Hull supported a $96 hike last year, a proposal that regents ultimately approved by a 6-5 vote.
For a board on which such divisive votes are rare, the close margin was a warning that a decades-old tradition of low tuition hikes might need rethinking.
"Tuition in Arizona is an extraordinary value," said board president Jack Jewett. "In fact, among the benchmarks in which Arizona is 50th, we can add tuition to that list."
But that value comes in the middle of a nationwide trend that's left public universities relying less on state funds and more heavily on sources like research grants and gifts.
Arizona has been among the states hardest hit by this trend ÷ the amount of state funding in the total UA budget has shrunken from 45 percent in the mid-1980s to less than 35 percent.
Jewett was one of the six regents who supported the $96 hike, saying that without an improvement in financial aid, a higher increase would price university tuition out of the range of low-income students. Now, he is joining Arizona's three university presidents in arguing that the best way to improve financial aid is to increase tuition.
"For the first time in the five years that I've been on this board, we are looking at tuition in a different context," Jewett said earlier this month during a joint meeting between regents and the State Board of Education.
Speaking Thursday morning before the regents' meeting, UA President Pete Likins, ASU President Michael Crow and NAU President John Haeger joined Jewett in arguing that a sharp tuition increase would mean they could redirect more money to poorer students and actually make a university education more affordable.
"It is counterintuitive but nonetheless a fact that universities with the highest tuition have the highest access," Crow said.
At many private universities, where annual tuition can exceed $25,000, students who demonstrate financial need are guaranteed to have 100 percent of it met, usually through a combination of grants, loans and work-study.
Jewett and the three presidents want to see the set-aside ÷ the percent of tuition dollars redirected toward financial aid ÷ increased from 8 percent to 14 percent. With that increase, more than $5 million would become available as aid to needy students.
"The one firm commitment that I'm willing to make is a firm commitment to need-based financial aid," Likins said.
That aid should come largely in the form of grants, Likins has said. He does not want students' reliance on loans to increase.
Of the six regents who voted for the $96 increase last year, three no longer sit on the board. Each of the other three has expressed interest in a $1,000 hike, but also argued for the financial aid increase.
"If financial aid can be dramatically raised to 14 percent, then I could support raising tuition that could get us to · a $1,000 increase," regent Chris Herstam said at November's meeting, the last time the regents formally discussed next year's tuition. Herstam voted for the $96 increase last year.
Jenny Rimsza, a former UA lobbyist, had been one of the staunchest opponents of a tuition hike. Last April, as part of the zero percent tuition hike campaign, she unfurled a banner on the Mall that read "0% percent tuition increase. Keep your education affordable."
Now, in light of a state financial situation that she said "has become so much more bleak than anyone could have anticipated," even Rimsza, who left the student lobbying group last fall, said she would support an increase.
"A tuition increase is in the best interests of students at the university as long as it's coupled with a significant increase in financial aid," she said.
Keren G. Raz contributed to this report.