A glimpse of greatness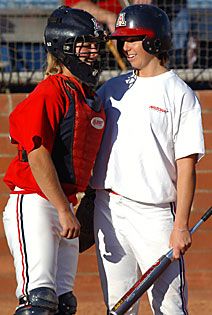 SAUL LOEB/Arizona Daily Wildcat

Junior Mackenzie Vandergeest chats with a UA alumna during the team's annual alumni exhibition game.

By Lindsey Manroel
Arizona Daily Wildcat
Monday January 27, 2003


Softball talent of today meet stars of yesterday

A normal day at Arizona's Hillenbrand Stadium usually doesn't include some of UA's most talented alumni battling against Arizona's 2003 squad.

Then again, a normal game in an Arizona uniform öö no matter how long ago one played for UA head coach Mike Candrea öö does entail tradition, camaraderie and a hopeful chance of being able to add another national championship banner to the outfield wall of Hillenbrand Stadium.

"Today was a lot of fun, and it was good to see the live tradition of Arizona softball," UA assistant coach Nancy Evans said, who traded in her spot in the home dugout in order to represent the 1998 team of her senior season.

"It will help the younger girls to see the camaraderie and friendships, and it will help them to carry on that tradition," she said.

For the four freshmen that make up UA's young talent ÷ pitchers Alicia Hollowell, Leslie Wolfe, Michelle Schultz and outfielder Autumn Champion ÷ the legend of Arizona softball is evident.

Banners from the 1991, '93, '94, '96, '97 and 2001 National Championships line the outfield walls.

Pacific 10 Conference Championships during the 1992, '94, '95, '97, '98 and 2001 seasons are also present.

So what is the meaning behind Saturday's alumni game?

A glimpse of what may be ahead for Candrea's freshmen and the 2003 team.

"Tradition is a huge part to any program, and UA has a rich tradition (of winning) to carry on," Candrea said. "It's important to understand and appreciate it. When a uniform is on and it's time to play the game, great players get to where they need to be. But we need to be consistent. We need every bat to count and every player to be tough."

Behind the power-hitting of junior catcher Mackenzie Vandergeest, this year's squad sent a message to its predecessors that they too are capable of carrying out the tradition that many of them left behind.

They did so with a 6-0 win in front of excited fans that caught a glimpse of former favorites as well as their future alumni.

After blasting two home runs during Friday's double-header victories over Phoenix College, Vandergeest added two more to the list on Saturday.

During her first at bat, Vandergeest blasted a two-run hit over the wall on the first pitch, to give the Wildcats an early 2-0 lead.

Vandergeest's second home run came in the third inning with two runners on and no outs.

"I kept replaying my swing over and over, which is unusual, and I always evaluate it," Vandergeest said. "I'm proud and very happy (with myself), but it's always the next at bat after that."

One unusual face on team alumni was graduated pitcher and volunteer assistant coach Jennie Finch who split time between pitching and first base.

"It was weird (being an alumni) but nice to be on the field and surrounded by tradition and talent," Finch said. "It's a new time and era, and these Arizona Wildcats will be ready to go. They just need to take it one day at a time."

One piece of advice Evans would offer the young squad is to work a little harder each day.

"They need to keep working hard because there's a lot more to Arizona softball than winning," Evans said. "They should keep up that Arizona tradition with pride and national championships."

The first regular season action for Arizona will be this Friday through Sunday, when the Wildcats take part in the Louisville Slugger Tournament in Tampa, Florida.