Ailing Mlakar carries tennis to win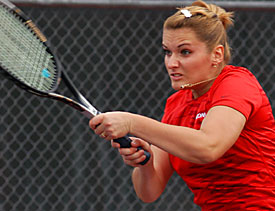 CHRIS CODUTO/Arizona Daily Wildcat

Sophomore Maja Mlakar won in a gutsy performance against Marquette's Annabelle Espinosa. Mlakar, bothered by shin splints, won in straight sets.

By Brian Penso
Arizona Daily Wildcat
Monday January 27, 2003


Post game ice packs on the shins, knees, shoulders and arms.

That sounds like a typical postgame activity for UA football and basketball players.

But tennis players?

That was how Arizona sophomore tennis player Maja Mlakar celebrated after a match against Marquette Friday.

Mlakar has spent the past two months battling shin splints, and she just returned to the court this past week.

Last year's top player for the Wildcats is now playing at the No. 3 position for Arizona, which for the time being gives the Wildcats one of the strongest rotations in the Pacific 10 Conference.

The 20th ranked Wildcats' (2-0) talent in its top three positions was apparent over the weekend as they dominated Marquette en route to a 6-1 victory.

"We were expected to win these matches," UA head coach Vicky Maes said. "That makes it harder sometimes than beating a top team when you're expected to win. It was good that we were able to come out and get these wins."

UA's top two players, graduate student Emilie Scribot and sophomore Dianne Hollands were easy victors over their opponents, but Mlakar was in a battle from the first serve of her match.

Mlakar's opponent, Annabelle Espinosa, was playing injured as well, which added intrigue to the match.

Espinosa was forced to tape her knees on each side to ensure her knee would not pop out of place during the match.

Throughout the match, Espinosa grimaced after each point, but there was nothing that was going to stop her from competing against Mlakar.

Both players were either battling conditioning problems or pure physical pain, but neither was deterred from her goal of winning the match.

"I have not played competitively for over two months," Mlakar said. "I am no where near the level that I need to be. I just need to keep practicing and improving. Right now I think I am playing at a C- level."

The two players fought back and forth, but in the end, Mlakar was able to come away with a 7-6, 7-5 victory.

Espinosa gave Mlakar problems, but Maes said if the match was replayed at the end of the year, Mlakar would probably beat her decisively.

"Maja is just getting back on the court," Maes said. "If they played again when she is back in form, I think that she would have a lot less trouble."

The Wildcats don't return to the court for two weeks, which will give Mlakar a chance to regain the form that she had last season.

Once that happens, Arizona is going to have a solid rotation that will be able to compete with any team in the country.