Tennis triumphs in opener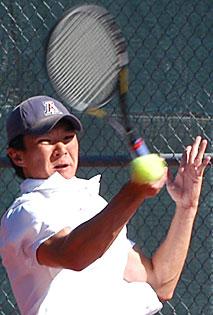 JON HELGASON/Arizona Daily Wildcat

Whi Kim and the UA men's tennis team dismantled Santa Clara, 6-1, yesterday.

By Christopher Wuensch
Arizona Daily Wildcat
Monday January 27, 2003


Arizona trumped Santa Clara's redemption card Saturday as the UA men's tennis team served up a victory in its season-opening meet, 6-1.

The Broncos were looking to avenge a loss to the Wildcats two years ago in Tucson, but UA had other ideas.

After falling behind early in doubles play, Arizona made a strong rebound, sweeping all six singles matches and defeating the Northern California school. The loss dropped the Broncos to 1-1 for the year.

"We weren't too sharp in doubles. I don't know whether the guys were tired or what. But then they bounced back and played (really well) in singles," said UA head coach Bill Wright.

Juniors Whi Kim of Arizona and Erich Chen of Santa Clara provided the highlight of the day with a grueling three set match that pitted the number one singles players from both schools against one another. The victory for Kim öö 6-1, 6-7 (5), 6-0 öö was his second of the day, the first coming in doubles action. Kim's blistering serve and consistent groundstrokes proved to be too much for Chen.

"He played smart, getting balls back, waiting for me to miss," said Kim. "I struggled in the second set."

During that heated second set, tensions grew after Kim was given a code violation for throwing his racquet. According to Kim, the penalty would not have been assessed had he not broken the racquet.

Chen's energy would eventually allow the second year varsity starter to force an emotional second set tie-breaker that at one point saw the 6-foot-3 junior let out a charged cry of "Let's go Broncos!"

Despite dropping the second set, a calm and collected Kim made short work of Chen in the third set, taking the match 6-0 and adding to the victory for Arizona.

At that point, the win for Arizona had already been sealed for the Wildcats, courtesy of a victory by Colin O'Grady. Playing in the number three singles slot, the sophomore from Tempe cruised by Buenos Aires native Federico Mattioli 6-4, 6-4.

"The first match-up is always hard. I think we have a real solid, deep team," Wright said.

Earning a victory for Arizona in his Wildcat debut was Ohio State transfer Paul Warkentin over Taylor Bedilion 6-1, 6-4. Also earning a point in their Arizona debuts were freshmen Daniel Andrus (6-0, 6-4) and Roger Matalonga (6-2, 6-4), winning in the number five and six positions, respectively.

For Matalonga, the victory came in just his third day in Tucson since arriving from Terrassa, Spain last week.

Number two player Carl Hagman from Copenhagen, Denmark, added to Arizona's international appeal and rounded out the singles competition. The junior defeated Francisco Zepponi 6-2, 6-4.

"The guys are strong. We needed this match today; the trip to California is going to be rough next week," added Wright, a veteran coach in his 17th year at the helm of UA tennis.

Arizona will travel to San Diego next weekend for Saturday and Sunday matches against San Diego and San Diego State, respectively.