Freshman impressive in debut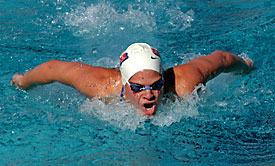 JON HELGASON/Arizona Daily Wildcat

The No. 10 UA women's swim team swept No. 9 California and No. 4 Stanford at home this weekend. The men's team didn't fair as well, falling to top-ranked Stanford Friday.

By Branden Lombardi
Arizona Daily Wildcat
Monday January 27, 2003


Wildcat women outstanding in weekend wins; men fall, but show they can hold their own with competition

He may still be getting used to campus, but Lyndon Ferns is having no trouble in the water for the UA men's swim team.

The freshman swimmer from South Africa, who transferred to Arizona just this spring, was spectacular this weekend as he posted three victories in his first swim meet for the Arizona men who fell to the No.1 ranked Stanford Cardinal 160-66 on Friday afternoon.

But the biggest story of the weekend was on the women's side, as the women ranked No. 10, swept No.9 Cal and No. 4 Stanford, and improved their dual meet record to (5-1) this year.

The weekend started Friday with the women winning 10 out of a possible 15 events against Stanford, and winning the meet with a final score of 166.5-132.5.

The victory was strong, and was headed by three swimmers winning two events apiece. Senior Beth Botsford won both the 100 and 200 backstroke events, while sophomore Jessica Hayes won the 100 and 200 freestyle. Sophomore Emily Mason started her spring season with victories in the 500 and 1000 freestyle.

Saturday the women again continued their dominance in the pool by winning nine out 13 events against California in a 136-107 victory.

Once again Emily Mason and Jessica Hayes were impressive, and Mason garnered three victories while Hayes picked up two wins on Saturday against California.

Head coach Frank Busch said he's really excited about the women's performance.

"It is great for the girls to start this way," Busch said. "I was happy with how they swam."

The women's diving team contributed to the women's victories this weekend, anchored by an incredible performance by junior Claire Febvay.

Febvay swept the one- and three-meter events against both Cal and Stanford. The Wildcats swept places one through three in the three-meter competition against California, with junior Daniela Bemme taking second place, while senior Jennifer Hess battled through injuries for a third place finish.

Aside from Ferns, however, the men's team wasn't as successful.

On Saturday, in another loss to the No. 3 California Golden Bears, 127-115, the freshman Wildcat won another two events to help keep Saturday's meet close.

Busch said he was pleased with both the performance of Ferns and how his team stuck in with the third-ranked Golden Bears.

The men's divers did their part against both Cal and Stanford as junior Alex Vollelunga placed third and first in the one-and three-meter diving competitions Friday. Junior Josh Anderson also placed second in the three-meter event. The divers performed even better on Saturday against California, where Vollelunga again won the three-meter event and Anderson won the one-meter event.

The spring season doesn't get any easier for the Wildcat swim and dive teams as they head to Austin, Texas to face the nationally ranked University of Texas and Southern Methodist University Friday, Jan. 31 ÷ Saturday, Feb. 1.