SafeRide will operate late nights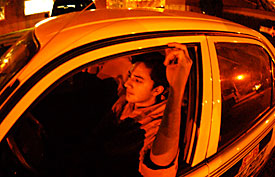 RANDY METCALF/Arizona Daily Wildcat

Finance junior and SafeRide director Sharjeel Durrani waits in his vehicle to be dispatched to pick up students on campus last week. SafeRide will expand its hours of service.

By Stephanie Schwartz
Arizona Daily Wildcat
Tuesday January 28, 2003


Drivers needed to fill shifts before service can extend

UA students who are tired of ordering pizza late at night because they don't feel safe walking to the Student Union Memorial Center now have an answer ÷ the SafeRide Shuttle Express.

The extended service beginning in February will provide a ride for students around campus from 1 a.m. ÷ 4 a.m., matching the hours of the union's Cellar restaurant, which is now open daily from 10 a.m. ÷ 4 a.m.

SafeRide requires two people to work the three-hour shift each night, but the student-run service doesn't have enough drivers yet.

Of the 14 available positions, only four have been filled.

"There's been a great interest in regular shifts," said Greg McNamee, assistant director of SafeRide. "We're looking for the night owls now to cover the late shifts."

ASUA director Sharjeel Durrani asked ASUA representatives to volunteer their service and drive the van to ensure that the service can begin in the next two weeks.

"All of the senators really care about the University of Arizona and are highly involved," ASUA Senator Adam Bronnenkant said. "We have volunteered in the past and we will volunteer this semester."

The idea for the late-night shuttle came from student concerns about safety after Park Student Union closed for remodeling at the end of last semester. The union's closure forced many students in residence halls on the southwest side of campus to travel to the Arizona Memorial Student Union for food, McNamee said.

Arizona Student Unions opted to supply the van to give residents a safer way to get a late night snack, and will pay $15,000 to provide the service until October or whenever the PSU reopens, Tamara De Stefanis, program director of Park Student Union, said.

Until then, the shuttle service will also allow passengers to partake of the new amenities in the student union, officials said.

"The new shuttle will hopefully lessen the inconvenience of the Park Student Union reconstruction and give students an alternative source of food, movie rentals and a game room," said De Stefanis.

After the remodeling is through, the student unions will evaluate if the service is worth continuing.

"We'd like to encourage alternative late-night activities, other than going to the bars," De Stefanis said. "This is one thing we really want to promote."

SafeRide's general service runs from dusk until 1 a.m., and takes students as far north as East Waverly Street, as far east as North Tucson Boulevard, west to North Fourth Avenue and south to East Broadway Boulevard., although the drivers cannot cross East Broadway Boulevard.

Students interested in applying to be a driver for SafeRide can call the ASUA office at 621-ASUA or go into the office and pick up an application.

The first possible training session available for new drivers is Feb. 1. SafeRide hopes to fill all the vacancies by that time and begin the new service soon after.