On the Spot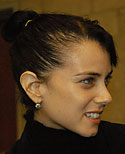 Mia Kirshner
Actress, human rights activist

By Rebekah Kleinman
Arizona Daily Wildcat
Tuesday January 28, 2003


Mia Kirshner, who appeared in "Not Another Teen Movie" and "Exotica," talks about Fourth Avenue street life

WILDCAT: So, have you been to Arizona before?

KIRSHNER: No, I haven't.

WILDCAT: Do you like it so far?

KIRSHNER: I do. I like that one street over there. It's the hippie · it's holistic.

WILDCAT: Oh, Fourth Avenue?

KIRSHNER: I guess. I'm a hippie myself so I was very pleased to see it. I'm into crystals and incense.

WILDCAT: Interesting, You sound like a hippie. Great story. So, of course I have to ask you about acting. What's your favorite role?

KIRSHNER: My favorite role? Gosh, this is really hard to talk about in the context of what we just talked about. Do you want to talk about this stuff that we were talking about? You know Chechnya?

WILDCAT: Not so much. How about I ask you another question?

KIRSHNER: OK.

WILDCAT: OK. So, if you were to own your own store, what kind of store would it be?

KIRSHNER: Oh gosh, that's a great question.

WILDCAT: That's why they pay me the big bucks ÷ to ask good questions.

KIRSHNER: OK. I would probably have a really rare bookstore with lots of beds and big comfy couches and ·

WILDCAT: Just a nice comfy, fluffy place.

KIRSHNER: Yeah, and then you could just go through a door and be anywhere you want to be.

WILDCAT: Awesome. What a good hippie answer. So where would you want to be if you could go anywhere in the world?

KIRSHNER: I love Morocco. Maybe Paris.

WILDCAT: Ahh, yes. So, if you were a peanut butter and jelly sandwich, would you be the PB or the J?

KIRSHNER: I won't answer that, I'm sorry.