Yearning for a chance to play on Sunday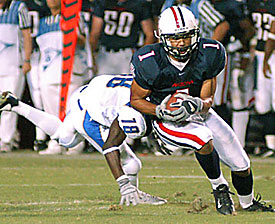 File Photo/Arizona Daily Wildcat

Bobby Wade , the UA's career receiving leader, is preparing for life in the NFL come next season.

By Jeff Lund
Arizona Daily Wildcat
Tuesday January 28, 2003


A resume.

Most often associated with references, job descriptions, some contact information, or maybe an E-mail address, this item is presented by fax or handed personally to the prospective employer by a job-seeker clad in dress clothing.

For Bobby Wade and Jason Johnson, their resumes are dirty, sweaty, and have more to do with fooling defensive backs, reading defenses, and reaching the end zone.

No polo shirts or ties allowed.

Following the conclusion of another disappointing season, Johnson and Wade are looking to break into the greener pastures of the National Football League.

Despite the fact that both players were among the conference leaders in their respective positions, it will be far from a walk in the park.

Following the end of their collegiate playing days, nothing has slowed down for these two. In fact, everything in their lives revolves around speed.

Their first task is getting in shape for the assortment of senior bowls, then for the NFL trials that litter the spring.

"Right now, it's each phase of the process. You gear toward what is next," Johnson said. "As soon as we finish with all the bowls, it's just the exact drills you will be doing for the scouts and the special tests. It's all about speed."

As a receiver, Wade knows all about the importance of speed and mobility.

Wade said most of his off-season training now has dealt with speed work öö the pads come later.

"I'm getting ready now to run a good 40-yard dash," Wade said. "That's what I'm training for right now to get ready for the combines."

Both have been working out with other prospective pro players under the guidance of agents or coaches.

"I've been training a lot with a positions coach," Wade said. "He also coaches a lot of wide receivers. It's rigorous. It's every day. I'm not where I need to be yet for the combine, but I'm staying healthy and staying on it."

He has to. They both do if they want to make the NFL.

"I feel like I am in the best shape of my life," Johnson said. "It's tough, but it's not hard to stay motivated when you are so close to a dream you have had since you are so young. Every day you want to work that much harder."

Since the season ended with a 34-20 loss to Arizona State, Johnson and Wade have been working non-stop and traveling continuously, chasing that dream and leaving their resumes wherever they go.

If it works out, these two couldn't be happier. And to have each other as teammates in the NFL? That might be a bit much to ask for, but why not dream the big dream?

"Me and Lance (Briggs) were talking about playing with someone you know from school. To have a buddy already in, its nice, especially in a foreign city," Wade said.

Johnson couldn't agree more.

"I don't think there is any better situation than that," Johnson said. "It's pretty cool to talk to Wildcats that are already in the league. I shared some time with (former wide receiver) Jeremy McDaniel. It was pretty neat to see a guy that came from Arizona."

McDaniel, who was a first round draft pick in 1999, was recently cut from the Buffalo Bills after tearing his hamstring, Johnson said, but the interactions were valuable.

But what if it doesn't work out? Resumes are rejected every day.

"There is the fear there, but you don't focus on that ÷ just what can I do today," Johnson said. "You can't control that."

All they can control now is what's next. The next morning, the next workout, and getting ready for the regional combines where NFL scouts will litter the sidelines looking for the best pro resume öö speed, strength, power and skills.