Campus grieved behind closed doors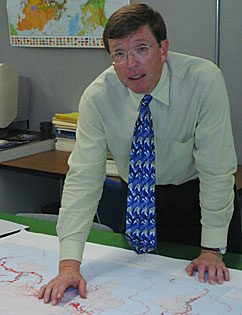 "There was a stunning silence. Then after about five minutes of talking, the response was 'run like heck and find out if you know anyone.'"
-Terry Wallace

By Daniel Scarpinato
Arizona Daily Wildcat
September 11, 2002


Minutes after last year's attacks, it was obvious that Sept. 11 would be no ordinary day for the professors, administrators, staff and students who were getting ready for morning classes, vacationing out of town and planning to sleep in late.

Instead of being greeted by a pop quiz when they arrived in classes, students were confronted with the news of a national tragedy.

But despite the unknown sense of safety and horrific images that followed throughout the day, President Peter Likins encouraged professors not to cancel their classes.

"I want mathematics professors to talk about this," he said after a campus gathering that drew thousands.

In the days that followed, the campus community tried its best to go through the motions and focus on day-to-day activities.

And initially, many imagined that life would never be the same.

With the one-year anniversary of the attacks settling in and life back to normal, professors, students, staff and administrators are stopping and reflecting on a haunting day.

Yesterday, hail poured down outside as Terry Wallace was working in his lab on the fifth floor of the Gould-Simpson building.

But last year, on the same day ÷ a bright sunny Sept. 10 ÷ he was just returning from a trip to the Pentagon.

At 6 a.m. the next day, Wallace was settling into his office in the Gould-Simpson building.

The geosciences professor was scanning Web sites, preparing to get back to lecturing his geologic disasters class, when a call from a friend on the East Coast came in.

The first plane had hit the World Trade Center.

And the first thing that went through his mind: What can I do to help?

"At that point, we didn't know what was ahead for us," he remembered.

Wallace hoped that there was something he could do ÷ with his experience in earth sciences ÷ that was socially relevant to the situation.

But soon he learned that there was not much he could do.

Nothing, that is, except get to his first class of the day.

Meanwhile, having missed her chance to go on a summer vacation, Janet Bingham and her husband had just checked into their hotel on Coronado Island, San Diego the day before.

The morning of Sept. 11, the couple was getting ready for their morning jog. But when the TV news made way for graphic images of the World Trade Center being hit, plans changed.

After checking on the safety of family, Bingham, UA's vice president for advancement, made contact with people back in the administration building immediately.

"I knew that Pete Likins would act quickly because of the magnitude of this," she said.

And he did.

In Tucson, Likins, Provost George Davis, then-student body president Ray Quintero and a slew of other university figures were already meeting to discuss what to do next.

The World Trade Center was now gone and the Pentagon was on fire.

The decision was made to hold a campus town meeting on the UA Mall ÷ a kind of impromptu gathering.

In addition, a wall would be erected where students could write anything they felt.

But while campus leaders pondered their next move, Marshall Vest was in the middle of a war zone.

Vest, a UA economist, was in the Marriott Hotel at the World Trade Center attending an economics convention when the attacks occurred.

"As we were listening to the breakfast speaker, Morgan Stanley's president, Robert G. Scott, the chandeliers vibrated," Vest said. "I remember glancing at others seated at my table and it was obvious that we were all thinking the same thing: ĪThis isn't Los Angeles. They don't have earthquakes in New York, do they?'"

During the next couple of seconds, there was another explosion and the debris from the tower that had been hit by an airplane began raining down on the hotel.

Vest said the group had two options for exiting the ballroom ÷ to the right were the elevators to Tower One, and to the left was the hotel lobby.

Still not knowing what had happened above him, Vest looked out the lobby windows and saw a total war zone covered in concrete and twisted metal.

Vest and others were quickly ushered outside by hotel employees. Seeing the explosion in the tower above them and dead bodies on the ground below, they ran, hand-in-hand, through dark, thick soot until they reached the Hudson River two blocks away.

Back at home, Wallace and dozens of other professors with early morning classes faced a difficult situation ÷ how to conduct a class and collect homework in the midst of a national tragedy.

With pictures of the World Trade Center collision projected on the classroom overhead, Wallace watched students come into class.

It was 9:30 a.m., over three hours after the first plane hit the buildings, but many of the students showing up for his Geologic Disasters class knew nothing about the attacks.

"There was a stunning silence," Wallace said. "Then after about five minutes of talking, the response was Īrun like heck and find out if you know anyone.'"

Skipping class was already in the plan for Josh Shapiro, a business junior who was sleeping-in the morning of Sept. 11.

"My best friend came to my room and told me the World Trade Center had fallen, and I didn't believe him at first," he said.

What followed for Shapiro were days spent glued to the television set, watching the tragedy unfold.

Aaron Little, an English and creative writing senior, had a similar experience.

"I got up maybe nine or ten and I went out and my roommate was already watching CNN and I was first learning what was happening," he remembered. "I think I did go to school that day. I don't think my roommates did. It was just in the air the whole day."

Back in New York, there was no air ÷ just soot ÷ and Vest was fighting for his life.

The rest of the day he struggled through the thick dust and smoke from the fallen buildings and latched onto New Yorkers who managed to find their way to safety.

After walking 10 miles ÷ his mouth and nose covered by his hands ÷ Vest arrived looking like a man buried alive at a safe Midtown Manhattan building.

Out in California late that night, Bingham and her husband finally managed to take that jog, while Vest, three hours ahead of them, slept cuddled in Midtown with his cell phone.

A year later, Bingham said she has a changed philosophy on life because of the attacks.

"I'm not going to take for granted our freedom," she said. "It's not untouchable."

But the everyday lives of UA students, faculty and staff have not changed, nor have most of their directions.

"I suppose in viewing pop culture, like movies and such, seem to be more sensitive now to the sort of subjects that go along with the subjects of Sept. 11, the terrorist acts in general and in viewing our government, the CIA and the forces that protect us so to speak," Little said.

Wallace will teach class again today, but to a crowd not quite as tense and somber as last Sept. 11.

"Today we stand one year later, and the way we do science and targets has not really changed," he said, admitting that he was uncertain in the hours after the attack as to what the impact would be.