Fear pushed some away, most came back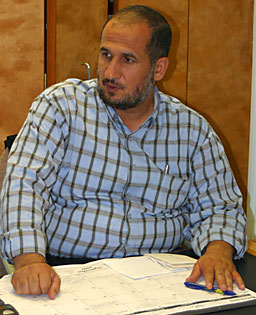 "Those hijackers hijacked our freedom in America. We are not enjoying freedom and justice anymore because of what they have done."
Omar Shahin

By James Kelley
Arizona Daily Wildcat
September 11, 2002


In the days following last year's attacks, fear and rumors ran rampant among the Arab and Muslim communities.

As a result, at least 53 students from other countries went home.

One year later, most of them have returned.

While officials are not sure exactly how many students who fled the university after the Sept. 11 attacks returned, they agree most have come back.

The exact number is still being calculated and will not be known until Sept. 16, when the UA will report its final enrollment to the Arizona Board of Regents.

Kirk Simmons, executive director of international affairs, said about 80 or 90 percent of students who left came back.

Those who didn't return either transferred to another school, had parents who weren't ready to let them go or stayed home or wanted to but could not get visas, said Joanne Lagasse-Long, director of international student programs and services.

Sharon Kha, spokeswoman for the university, said, quoting an October 2001 report, 65 students withdrew in connection with the Sept. 11 attacks. Twelve were U.S. citizens, and 11 of those students had military obligations.

Initially, it was feared that Tucson Muslims would be particularly targeted by hate crimes because one of the suspected suicide bombers, Hani Hanjour, was a former UA student.

Also, bin Laden's chief of logistics, Wa'el Hamza Jelaidan, is believed to have been president of the Islamic Center of Tucson in the 1980s.

"Rumors, they were spreading very wide that we are here being attacked and accused and insulted, which made parents worry, so they called them and begged them to come home and disregard their studies and philosophies. They just wanted their kids to be safe," said Omar Shahin, imam and director of the Islamic Center of Tucson.

International students who withdrew were from Bahrain, Kuwait, Pakistan, Saudi Arabia and the United Arab Emirates, which had the most with 34, Kha said.

All the students from the United Arab Emirates came back except for two, Shahin said.

Last year there were about 3,800 international students, 2,800 of whom were here on temporary visas, Kha said.

With the United States tightening security, students from Saudi Arabia, Osama bin Laden's place of birth and the former home of 15 of the 19 suspected Sept. 11 hijackers, represent one of the largest groups of students who were denied visas.

Despite this, Tucson Muslims feel safe, said Shahin, who knew Osama bin Laden in 1981 or 1982 while he was studying in Medina, Saudi Arabia.

"I think it could be worse but so far I think we are doing OK. They are a few crazy people ÷ very, very few," Shahin said. "The whole Muslim people have been suffering since Sept. 11. Those hijackers hijacked our freedom in America. We are not enjoying freedom and justice anymore because of what they have done."