Campus commemorates September 11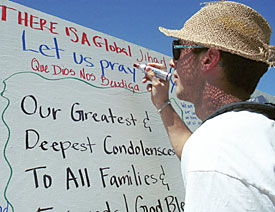 FILE PHOTO/Arizona Daily Wildcat

A student shares his emotions by writing on the Wall of Expressions last year. The wall was put up on the UA Mall as an outlet for students to have a way to express how they felt about the events of Sept. 11. It remained up for a month.

Arizona Daily Wildcat
September 11, 2002


ð8:46 a.m. The Tucson Masterworks Choral will take part in a worldwide concert to honor those lost on Sep.11. The event is free ÷ although donations will be accepted ÷ and will take place in Centennial Hall.

ð 9 a.m. Flandrau Science Center's exhibit features a Wall of Remembrance and images of the World Trade Center and the Pentagon before the attacks.

ð12 p.m. The Campus Commemoration of Sept. 11 will take place on the UA Mall featuring an address from Peter Likins and poetry readings from selected students. The bell from the USS Arizona will also toll five times in memory of the UA alumni who lost their lives on Sept. 11.

ð12:05 p.m. The St. Thomas More Catholic Newman Center will host the first of three masses today at the Catholic Newman Center Chapel.

ð12:30 p.m. The "Bio-Terrorism 2002" conference will take place at University Medical Center, Du Val Auditorium. Topics include smallpox, anthrax, water and food-borne pathogens and toxins.

ð12:45 p.m. A Native American blessing ceremony will take place on the lawn of the Arizona State Museum.

ð1:30 ö 3:30 p.m. An exhibition featuring images of New York and Washington before the attacks titled "Yesterday and Today: A Portrait of NYC and Washington" will be available for viewing in the Center for Creative Photography.

ð4 p.m. Graduate student Ryan Higgins will present and discuss his video project featuring Tucsonan's reactions to the Sept. 11 attacks. The event will take place in the Sociology building, Room 216.

ð5 p.m. The University Religious Council is sponsoring a vigil and interfaith service on the Mall.

ð5:15 p.m. The Catholic Newman Center will host the second of three masses today at the Catholic Newman Center Chapel.

ð9 p.m. The Catholic Newman Center will sponsor a "Moonlight Mass" on the Mall.