By James Kelley
Arizona Daily Wildcat
Wednesday, July 28, 2004
Print this


Top UA Athletes of 2004

Top athlete overall:
Robert Cheseret, cross country/track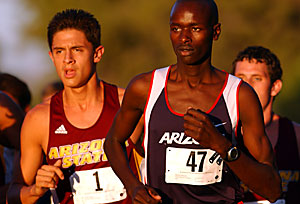 CHRIS CODUTO/Arizona Summer Wildcat
Robert Cheseret is one of Arizona's premier distance runners. Cheseret broke the Arizona freshman 5,000-meter record with a time of 13:45.88.
The postseason is where the greats shine and that is just what junior Robert Cheseret did in 2004. The Pac-10's track and field athlete of the year, Cheseret won five of six postseason tournaments, including the 5,000-meter NCAA national championship. Cheseret won the 10,000 meters at the NCAA regional, and at the Pac-10 championships he won the 1,500 meters, 5,000 meters and 10,000 meters, making him the only athlete to ever accomplish that triple crown.
The race Cheseret "lost?" That would be the 10,000 meters at the NCAA championships, where he finished second.
Runner up: Emily Mason, swimming, 400 free NCAA champion
Top Big Sport Athlete:
Mike Bell, football
Usually picked by pundits as the Pac-10's best running back, junior Mike Bell will get the ball and get the ball often, with an inexperienced quarterback. Coaches raved about Bell after seeing him up close in Spring Ball. Last year, Bell rushed for 920 yards on 5.5 yards per carry. Midway through the season, Bell had only 207 yards, but after getting the starting running back job all to himself, he ran for 713 yards in the final six games and had a streak of 510 yards in three games, including 222 in the upset of Washington.
Runner up: Hassan Adams, basketball. Emotional team leader poised for a breakout year.
Top Female athlete:
Alicia Hollowell, softball
The Wildcat's 2004 athlete of the year, junior Alicia Hollowell shattered her record for strikeouts, set her freshman year, and eclipsed her win record by one. Actually, those were school records as well. Though she won't have to pitch as much in 2005, Hollowell, runner up for national player of the year, should get even better than her 41-4 record, 0.79 ERA, 508 strikeouts over 293.2 innings and opponent batting average of .138. By the way, the season strikeout record before Hollowll was 366, by former Wildcat Jennie Finch in 2002.
Runner up: Shawntinice Polk, basketball. An All-American in her first two years at UA.
Most Underrated Athlete:
Candice Wilks, soccer
You won't hear much about her because she plays on the soccer team, where two Pac-10 wins (of nine matches) is something to mention with pride. But senior Candice Wilks is for real. Wilks, the team's offensive and overall MVP, scored a team-high eight goals and tallied a team-high 18 points. Wilks was also first team All-Pac-10 and on the West region team. Wilks' goals came on only 34 shots, whereas the next-closest scorer, Mallory Miller with six goals, made those on 58 shots. Four of her goals came when the UA needed them most, in the tough Pac-10 schedule. Since no Wildcat beside Wilks or Miller scored more than two goals, Wilks is vital in the team's quest to earn their first winning record this year.
Runner up: Jolene Killough, volleyball. Amid all the more well-known volleyball players, Killough quietly racked one of the top seasons in UA history.
Top young athlete:
Henry Liaw, golf
After starting the fall season slow, sophomore Henry Liaw won the Pac-10 title by four stokes, leading the Wildcats to the conference championship. An All-American, Liaw had four top-10 finishes and seven top-20 finishes. The Pac-10 male freshman golfer of the year, who had eight rounds in the 60s and a 71.67 stroke average, will be counted on more with NCAA national runner up Chris Nallen gone, and will likely be the next in the long line of great UA golfers.
Runner up: Caitlin Lowe, softball. Lowe was a national player of the year finalist as a freshman.


Write a Letter to the Editor