Monday, August 9, 2004


Get Thai'd: One night at Bangkok
Delicious fare and fantastic decor make Bangkok a must-eat cafe
The citizens of Tucson can scream out in triumph now that there is finally a decent Thai restaurant in town. It's called the Bangkok Cafe and the place already has regular customers singing praises about its exquisite food, even though it just opened 2 months ago.
For those of you who've tried some of the Thai restaurants in town, and have never tried Thai food again because of them, put your fears aside. The Bangkok Cafe offers "authentic Thai cuisine" that blows the generic Americanized Thai food out of the water. [Read article]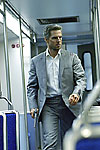 'Collateral' kicks action movie ass
Cruise, Foxx deliver great acting in Mann's 'Collateral'
"Collateral" is one of the best movies of the summer. This summer there has been the usual garbage ("I, Robot" and "White Chicks") the unexpected greats ("Napoleon Dynamite," "Shrek 2" and "Spiderman 2") and the disappointing ("The Village"). So, although the competition for summer greats is fierce, "Collateral" holds its own and proves to be smart, entertaining and action-packed. [Read article]



Return of the ghost of the 90s
Nostalgia for the nineties is just around the corner, waiting to crush your spirit
Anybody paying attention will note the delay: A decade need only wait 20 years before it reiterates itself.
Right now, people are going berzerk over the 1980's. When VH1 aired it's series "I Love the 70's" nobody really seemed to care. Maybe nobody besides VH1 actually loved the 70's or maybe anybody who did didn't feel they needed it fed back to them by pop-culture pseudo-pundits. [Read article]




CD Review: The Hives - Tyrannosaurus Hives
The Hives - Tyrannosaurus Hives
4 out of 5 stars
I know you've been through this before. The White Stripes, The Strokes and maybe even The Vines. You thought they were the ones, your garage rock true loves.
But they all changed. The Stripes became critics' darlings and The Strokes have hipper places to be than in your stereo. And The Vines? They suck.
But the Hives are different. They won't leave you. They won't change. They've been playing the same songs for more than 10 years. [Read article]




showAds('bigbutton')?>




showAds('mediumbutton')?>

showAds('wildlinks')?>