Friday, February 18, 2005

Tuition fees not covered by waivers
Students who receive a tuition waiver from the UA will still have to pay program fees if President Peter Likins' tuition proposal, which includes an 11.4 percent total increase of resident undergraduate tuition in addition to eight program fees, is approved in March.
Jerry Hogle, vice provost of instruction, said the program fees, also known as differential tuition surcharges, in Likins' proposal are separate from tuition. As a result, students would be required to pay those fees even if they do not have to pay tuition. [Read article]




Evangelist, students debate
The right of free speech came into question yesterday, as tension again mounted at the Alumni Plaza when students argued for the fourth consecutive day with a preaching evangelist who was making politically incorrect comments.
Jed Smock, a traveling evangelist and author of "Who Will Rise Up: A Call to Confrontational Evangelism," has been preaching to students by Heritage Hill for the last week. But the preacher said today will be his last day. [Read article]




WebMail 2.5 ready next week, new home page by summer
Students can expect a new look for the UA Web site by summer, while the often-delayed launch of WebMail version 2.5 is scheduled for Tuesday.
Even though the details of the new Web site are still unofficial, consistency in design and navigation, and a clean, professional appearance are major points to be worked on, said Paul Nixon, senior Web designer for the new home page.
Not everything will change, Nixon said, as the team responsible for the redesign expects to keep features that work well on the current Web site. The news section, the weather and the www.google.com search have been popular and will not be changed. [Read article]




Documentary features 20 cancer survivors
When David Horner, a pharmacology Ph.D. student, was finishing his chemotherapy treatments for testicular cancer last summer, he did not imagine he'd be strutting down the runway in a fashion show.
Horner is one of 20 cancer patients who participated in the fifth annual fashion show created for cancer survivors to celebrate their lives, said Cathy Parsons, a registered nurse with the Southern Arizona Oncology Nursing Society, which organized the show. [Read article]




New coffee shop a perk for med students
Students suffering from caffeine withdrawals while cramming for tests can look forward to the grand opening of a new coffee shop.
Java City, located inside the Arizona Health Sciences Library, will open to the general public on Monday.
"We are trying to get more people to come to the library," said Connie Silverstein, director of support services. "We are creating an atmosphere that is more like Borders (Bookstore)." [Read article]



Diversity concerns voiced at meeting
"I want it, I'm entitled and I deserve it!"
This mantra was the theme of last night's Black Town Hall meeting, where members from the black community, including Urban League and the Tucson chapter of the National Association for the Advancement of Colored People, came together to raise black awareness on campus.
Students voiced their concerns about lack of diversity on the UA campus and brainstormed about what should be done to increase support for black groups in the campus community. [Read article]




Pulitzer Prize winner spoke to law students
The fallacies and downfalls of American foreign policy were directly questioned and addressed by award-winning author and lecturer yesterday as part of the J. Byron McCormick Lecture series.
Pulitzer Prize winner, Samantha Power, asked the crowd of 250 in the James Roger's College of Law, "Are American foreign policy and security compatible, and can the United States be secure with the rate that we are going?" [Read article]



Word Up
"We're like horses, we don't run well in the rain."
- Dave Sitton, Arizona men's rugby team
"I'm going to make love to my bean bag."
- Bill Pateracki, computer science freshman, on his personal St. Valentine's Day nightly aspirations
"It's almost like running a small town of 35,000. That's the size of my hometown."
- Ryan Erickson, a delegate for Associated Students of the University of Arizona senator, on being part of the UA student government [Read article]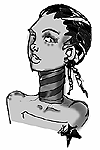 Fast facts
Migrating geese fly in a "V" formation to save energy. A goose's wings churn the air and leave an air current behind. In the flying wedge, each bird is in position to get a lift from the current left by the bird ahead. It is easier going for all, except the leader. During a migration, geese are apt to take turns in the lead position.
Until the Middle Ages, underwater divers near the Mediterranean coastline collected golden strands from the pen shell, which used the strands to hold itself in place. Called "byssus," the strands were woven into a luxury textile, a "cloth of gold," and made into ladies' gloves so fine that a pair could be packed into an empty walnut shell. Examples of this lost art exist today in some museums, and the cloth retains its color and softness. [Read article]




showAds('bigbutton')?>






showAds('mediumbutton')?>

showAds('wildlinks')?>