Friday, February 18, 2005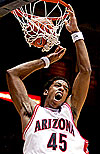 Men's Hoops: Ducks overpowered by tough Wildcat defense
If there was ever a question of the importance of experience, it showed last night in McKale Center.
The Arizona men's basketball team got 41 points from its two top seniors to take advantage of a young Oregon squad in front of a crowd of 14,597.
"Every night is senior night from now on," said senior center Channing Frye, who ended with 19 points, as classmate Salim Stoudamire contributed a game-high 22. [Read article]




Men's Hoops: Wildcats send Ducks quacking
Breakdown: UA inside, outside game works to perfection
The Arizona big men took the quack out of the Oregon Ducks from the start of the Wildcats' 92-67 victory last night in McKale Center.
Senior center Channing Frye was the emphasis of the Wildcat attack, starting the game with the team's first six points and opening up opportunities for the rest of the team.
Frye finished the game with 19 points and a career-high seven blocks, but it was his establishment of post position that keyed the UA offense. [Read article]



Women's hoops jumps to 2nd in Pac-10 with romp
Playing close at times, dominating at most others, the Arizona women's basketball team knocked off Oregon State last night in Corvallis, Ore., 78-59, to move into a second place tie in the Pacific 10 Conference.
The Wildcats (18-8, 10-5 Pac-10) are now tied with Southern California and Oregon in the conference standings.
The Beavers (6-19, 1-14) came within four points of the Wildcats with over five minutes to play in the second half. [Read article]




Icecats finish out at home against ASU
The 2004-2005 Arizona Icecats' regular season comes to an end today and tomorrow at the Tucson Convention Center Arena with a series against No. 13 ASU.
This weekend's games, which start at 7:30 p.m. today and 7 p.m. tomorrow, are the last for six Icecats, including senior forward Shaun Brooks.
"I'm glad we're going out with ASU," he said. "It's such a big rivalry."
The Icecats (13-10-1) dominated their rivalry with ASU until the past two seasons. [Read article]




Softball back home after much 'team time'
Entering its second home tournament of the season, the No. 1 Arizona softball team is ready to return to old habits.
"I think now, since we've been practicing really hard and we haven't had a chance to get a lot of games under our belt - we've had a lot of rainouts - we're just so eager to play," said senior third baseman Jen Martinez.
Arizona gets a few chances to hit the field this weekend, as it hosts the Worth Wildcat Invitational at Hillenbrand Stadium. [Read article]




Baseball: Cats charge into UT Pam-Am on 7-game win streak
After an emotional walk-off victory over rival ASU Tuesday, the No. 10 Arizona baseball team hits the road for the first time this season for a three-game series against Texas Pan-American this weekend.
The Wildcats play Friday at 7 p.m., Saturday at 2 p.m and Sunday at 1 p.m in Edinburg, Texas.
Arizona (7-0) enters having dominated weaker opposition all season before pulling off a thrilling, 7-6 win in 14 innings against No. 11 ASU. [Read article]



Gymcats try to stay unbeaten at home
The No. 18 Arizona women's gymnastics team looks to keep their perfect home record intact as they host No. 16 Oregon State at 7:30 p.m. Friday in McKale Center.
This will be the Gymcats' final Pacific 10 Conference home meet of the season.
"Athletes enjoy performing at home for people who appreciate it, the home crowd," said Gymcats head coach Bill Ryden. "It gives them some extra motivation, which results in better performances." [Read article]



Track tunes up for conference title meet
Traveling to a familiar venue this weekend, the Arizona track teams look to pick up steam heading into next weekend's Mountain Pacific Conference Championships.
The Wildcats trek to Flagstaff for the third time this season for the NAU-hosted Springo Invitational, but the team said it doesn't mind the trip.
"It's kind of like a home meet," says senior hurdler Gina Mazzone. "We've been up there so many times." [Read article]




showAds('bigbutton')?>






showAds('mediumbutton')?>

showAds('wildlinks')?>