Friday, February 18, 2005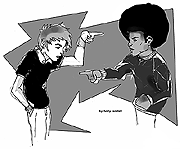 The crowd has grown belligerent, but Jed Smock remains in his seat, legs crossed and unperturbed. The small congregation of students has encircled him menacingly, perforating his speech with cutting verbal barbs. He pauses as a student hurls a profanity-laden insult, and a small hint of a smile plays across his lips. On this windy Tuesday afternoon, he almost seems to be enjoying this.
Since his calamitous debut on Monday, a debacle that very nearly resulted in his arrest, Smock has created quite a stir on the Alumni Plaza. Spewing rhetoric that is ignorant at best, and anti-Semitic and misogynistic at worst, the evangelist has engendered no small amount of student outrage. But while most of Smock's commentary is certainly shameful, it was the student response Tuesday afternoon that was most disappointing. [Read article]

·
Editorial: Technology fee hides true costs
·
Mailbag
Latest Issue: February 17, 2005
If you slapped some fake tits on him, then dolled him up in a wig and makeup, Gael García Bernal would be just as hot as a woman. Fortunately, he's still all man after filming "Bad Education," in which he plays a gender-bending director trying to turn a friend's traumatic childhood into a film.
At 27, Bernal is a rarity in cinema, rising to fame and heartthrob status by acting exclusively in Spanish-language films. He banged his brother's wife in "Amores Perros," had a three-way with his real-life best friend in "Y Tú Mamá También" and played a seductive priest in "El Crimen del Padre Amaro." [Read article]

·
Tucson and Campus Calendar
·
'Krazy Kat' was all that
Campus
·
Poet Laureate to visit UA
·
Student gallery draws on love for horses
Film
·
A good 'Bad Education'
Music
·
The Blood Brothers revive punk
·
Blonde Redhead takes it easy on tour
·
Modest Mouse amazes Mesa
·
KC brings sunshine to Tucson
·
The Milli Vanilli Factor
Literature
·
'Sight Hound' a great first novel
Latest Issue: February 15, 2005

Metal, ink and flesh: the painful pleasure of tattoos and piercings
No living human is a stranger to pain. But why do humans choose to endure pain in exchange for something as aesthetic as a tattoo or piercing?
When asked why she got so many piercings, aerospace engineering junior Brittany Neverman gave the most honest answer.
"I don't know," she said. "I think I'm addicted to piercing. It's kind of a rush." [Read article]

·
Body art tips: safety first, second, always

require('/home/webby/html/papers/98/polls/current.php')?>

showAds('bigbutton')?>




showAds('mediumbutton')?>


showAds('wildlinks')?>