Thursday, February 24, 2005


Baseball: No. 9 UA adds to Devils' misery
Cats thump ASU, 11-5, moves to 10-1
It's official. The rivalry is back.
After having lost the season series with ASU every year since 1999, the
No. 9 Arizona baseball team beat ASU 11-5 last night at Sancet Stadium for the second time this season.
While it took the Wildcats 14 innings to secure their Feb. 15 victory over the Devils (6-9), Arizona (10-1) jumped out to a 5-0 lead after two innings in this contest and never looked back. [Read article]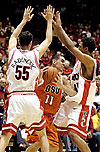 Men's Hoops: Cats try to lock down Cougars
Olson wary of last meeting's mistakes
Whatever went wrong in its Jan. 29 loss to Washington State, the Arizona men's basketball team already has heard it over and over again.
As they take on the Cougars (10-13, 5-9 Pacific 10 Conference) at Friel Court tonight at 6:30 p.m., the No. 9 Wildcats (23-4, 13-2) believe they will show what they have learned.
"I think the big thing we learned is we have to go out and every time play our hardest," sophomore forward Ivan Radenovic said. [Read article]




Men's Hoops: Wildcats want faster tempo tonight at WSU
The No. 9 UA men's basketball team hasn't lost a game since a 70-63 home loss to Washington State on Jan. 29 and wants to prove it was all a fluke.
The Wildcats get the chance, as they face Washington State today at 6:30 p.m.
The Cougars (10-13, 5-9 Pacific 10 Conference) beat the Wildcats (23-4, 13-2) by dictating the pace of the game, namely a very slowed-down pace. WSU head coach Dick Bennett has admitted that his team does not have the players to compete with the more athletic Wildcats, so the key, he said, is to not let the Wildcats get their rhythm going. [Read article]




Women's hoops ends schedule in McKale
The Arizona women's basketball team looks to close out the regular season with a home sweep as it hosts Washington State tonight at 7 in McKale Center.
The Wildcats (18-9, 10-6 Pacific 10 Conference) find themselves in a must-win situation if they hope to receive a high seed in the Pac-10 tournament in San Jose, Calif., on March 4-8.
Arizona is tied for fourth in the Pac-10 with in-state rival ASU, behind Stanford, Oregon and Southern California. [Read article]




Softball Notes: Candrea moves to 800 games over .500
Persistent rain canceled games in each of the last two tournaments for the No. 1 Arizona softball team, likely to the chagrin of head coach Mike Candrea. It also helped lift the longtime skipper to a rare milestone, and inched him closer to two others.
With the Wildcats' 2-1, eight-inning win over Hawaii in the second game of Sunday's doubleheader, Candrea has a career record of 991-191, making the 20-year UA veteran the first softball coach in Division I history to move 800 games over .500. [Read article]



Laxcats pull through in nailbiter vs. BYU
The No. 6 Laxcats came out and fought hard for a victory last night, led by three goals from sophomore midfielder Harrison Crawford, in a 9-8 barnburner against No. 3 BYU.
Due to the field damage done in the two matches played Saturday and Sunday, the game was moved to the Rincon Vista fields, known as a harder and faster playing surface.
"(It) was actually a little easier to shoot," Crawford said. "I liked this surface better because it's the field we practice on." [Read article]



Swim off to strong start at Pac-10s
The No. 6 Arizona women's swimming and diving team headed to Seattle yesterday for the Pacific 10 Conference Championships, along with the men's diving team.
The Wildcats prospered in preliminary competition, as senior Emily Mason placed first in the 500-yard freestyle with a time of 4:40.51.
The Arizona "A" relay team, composed of Jenna Gresdal, Lacey Nymeyer, Courtney Cashion and Jessica Hayes, took first in the 200y individual medley relay in 1:39.40. The same group finished first in the 200y freestyle event in 1:30.55 and second in the 800y freestyle relay. [Read article]




showAds('bigbutton')?>






showAds('mediumbutton')?>

showAds('wildlinks')?>