Thursday, February 24, 2005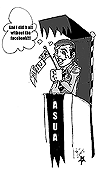 ASUA campaigners take to The Facebook
ASUA primary elections are next week. Who are the candidates again?
You mean, you haven't been canvassing dorms and standing on the mall passing out flyers to your friends?
There's a new alternative to personal interactions in campaigning for the Associated Students of the University of Arizona. Believe it or not, Thefacebook is the new classroom flyer.
In a development in the ever-broadening scope of creative politicking, campaigning for ASUA elections has turned to the Internet. [Read article]



Editorials: Thumbs up, thumbs down
Senators once again making big promises
ASUA senators and senatorial candidates have a long history of making big, unrealistic promises. How many times have we heard that senators were going to make CatCards work on University Boulevard.?
Some claims have been downright ridiculous. One senator last year wanted to use reclaimed water in the misters at the Student Union Memorial Center. [Read article]



Mailbag
Why was I in class Monday?
I woke up Monday and got ready for class much like any other Monday. However, as you know, it was not any normal Monday; it was Presidents' Day. The last time I checked, Presidents' Day is still observed by the federal and state governments all across this country, but somehow it just skipped over our little Tucson. This not only disrespects our current administration, but all of those who have served before it. I strongly urge our school administration to push for Presidents' Day off next year, or at least a new school president who will make the change. First, no flags in the classroom, now no Presidents Day, what's next, Mr. Likins? [Read article]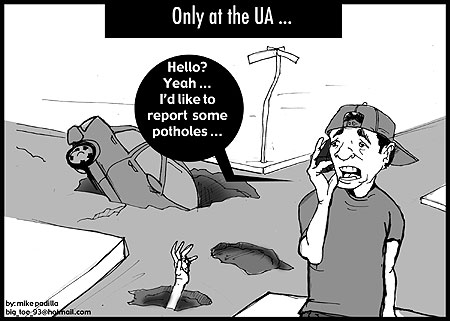 showAds('bigbutton')?>






showAds('mediumbutton')?>

showAds('wildlinks')?>