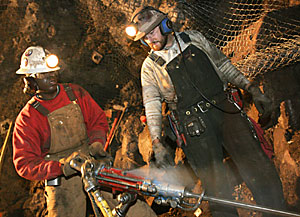 EVAN CARAVELLI/Arizona Daily Wildcat

Mining engineering senior Zack Sparksman practices boring through rock with a pneumatic drill as mining graduate student and mine manager Phil Joggerst instructs. A dedicated group of students volunteer their weekends to learn the art of mining and, as miners say, "get their time in the dark."

By Danielle Rideau
Arizona Daily Wildcat
Friday, February 25, 2005
Print this


Students will get an opportunity to test their strength and accuracy in the annual drilling competition today, which takes place on the huge rock outside of Old Main.

The competition, sponsored by the department of mining and geological engineering, will take place at noon outside of Old Main, said Matt Crawford, a geological engineering senior and student mine manager at the UA San Xavier Mining Laboratory.

As a tradition that has been occurring for nearly 90 years, students test their drilling skills and see how far they can drill into the rock made of granite, said Crawford, who also competed last year.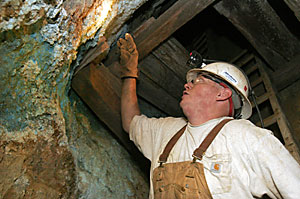 EVAN CARAVELLI/Arizona Daily Wildcat
Geological engineering senior and student mine manager Matt Crawford points out some of the remaining veins of copper 150 feet below the surface. The mine, now operated by students for drilling practice and safety training, was the source of thousands of tons of copper, lead and zinc during its 120-year history.
"This is a way to pay homage to miners and honors the craft of mining," said Erron Winsor, a mining engineering sophomore.
"The drill is like the carpenter's hammer. Drilling is the main function of the mine, (and) this is a way to honor that," said Winsor, a student mine manager.
The goal of the competition is to see who can drill the deepest hole in to the 26,000-pound rock on display outside of Old Main, said Crawford.
The competition is friendly, Crawford said, and the only prize for the winner is to be thrown into the fountain in front of Old Main.
Any student is allowed to participate, Winsor said, but usually students in the mining and geological engineering department are the majority of competitors.
Students use a 130-pound, air-powered jack-leg drill and are given two minutes to drill in as far as they can, Crawford said.
The approach and technique is the most crucial part of drilling a good hole, Winsor said. "You have to really lay on it and push real hard into the rock so that the most force is going into the bolder and no energy is wasted."
Since the rock is so dense and "hard as hell, the hardest part is getting started," Winsor said.
Each participant is required to participate in a practice session where they learn the parts and uses of the drill and all of the safety precautions, Crawford said.
"Along with the training, there is a risk management packet everyone receives with instructions from start to finish and hazardous spots on the drill," Winsor said. "We haven't had any safety problems yet, and usually if you honor the fact that it's a heavy piece of machinery and let it do all the work, everything is fine."
Each competitor must comply with all of the safety precautions and wear protective gear, Crawford said.
"Everyone must wear a hard hat, steel-toed boots, safety glasses and dual hearing protection," Winsor said.
The sound is so loud that participants must wear two forms of hearing protection, Crawford said, including "ear plugs and ear muffs because the 140 decibels that the drill produces is louder than a rock concert."
Of the participants, the top three drillers move on to the inner collegiate mining competition, which takes place in Reno, Nev., in early April, Winsor said.
Last year's winner, Nick Asbury, won with a hole 34 inches deep, Crawford said.
The rock the competitors will drill into was donated last year by the Phelps Dodge Sierrita mine and Marco Crane and Rigging Co., Crawford said.
Each rock, Winsor said, lasts about two to three years and can hold about 20 to 30 holes.


Write a Letter to the Editor