Thursday, March 10, 2005


Men's Hoops: Wildcats prepare for deep run in Pac-10 Tournament
They've been here before, and they've lost everything.
Two years ago, the Arizona men's basketball team was a No. 1 seed in the Pacific 10 Conference Tournament and was upset in the quarterfinal game by No. 8 seed UCLA.
This year, the No. 8 Wildcats (25-14, 15-3 Pac-10) hope history doesn't repeat itself when they take on the California Golden Bears (13-15, 6-12) today at the Staples Center in Los Angeles, with tipoff scheduled for 1:20 p.m. [Read article]




Men's Hoops Opponent Analysis: Nothing for granted
California hasn't given the No. 8 Arizona men's basketball team any trouble both times the teams have met this season, but that's exactly why senior center Channing Frye sees them as so dangerous.
"You have to understand ... it's that they have nothing to lose and they're playing for an NCAA berth," he said. "I think that's probably the best thing we can realize as far as motivation. We have to play like we're the underdogs, not the 1 seed." [Read article]




Commentary: Schedule strength a plus for UA women
RPI. These three letters, which mean rating percentage index, are the holy gospel according to the gods of college basketball.
A team cannot gain entry to the promised land, the NCAA Tournament, without adhering to the guidelines of the RPI: win games, play "quality" teams and don't lose to bad teams.
The Arizona women's basketball could reap the benefits of this controversial system, first introduced in 1991, in a somewhat disappointing season. [Read article]




ASU gets sweep of women's tennis
The No. 49 Arizona women's tennis team (5-6, 0-1 Pacific 10 Conference) dropped another close match yesterday, 4-3.
This time it was to in-state rival No. 28 ASU.
"I hate losing," said Arizona assistant coach Brian Ramirez. "But I'll take this one, because some of the girls who were really struggling showed a lot of progress."
The match started off tough and seemed to stay that way throughout. [Read article]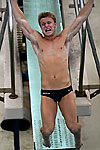 Diving heads to Oklahoma City for NCAA Championship
The stakes are high, and the players seem ready.
The divers on the Arizona swimming and diving teams hope to join their NCAA-qualifying teammates at the Zone E Diving Championships today in Oklahoma City.
The competition is crucial, as it determines which divers will move on to the NCAA Championships.
Arizona head diving coach Michele Mitchell-Rocha said seniors Daniela Bemme and Claire Febvay, and junior John Collier will be the main attractions looking for a berth. [Read article]




showAds('bigbutton')?>






showAds('mediumbutton')?>

showAds('wildlinks')?>