Arizona Daily Wildcat
Thursday, March 10, 2005
Print this


Asobi Seksu debut is playful greatness

While many up-and-coming bands break their backs over creating a good album, Asobi Seksu has managed to produce a great album, and even add another language to the mix.

At first listen, the New York outfit's self-titled debut sounds like something straight out of a Japanese cartoon. Lead vocalist Yuki (known by her first name) adds light and poppy Japanese lyrics to a swirl of bubbly guitars and simple rhythms. The theme is buoyant and playful but also carries a more serious tone.

While half of the album consists of danceable dream pop in both English and Japanese, there are a few more personal ballads more reminiscent of a retro '80s Brat Pack movie than the Tokyo scene. In fact, Seksu's influences lie more along the lines of the early '90s Irish-British quartet My Bloody Valentine and Scandinavian indie rockers Slowdive than anyone from Japan.

The album starts off on an upbeat note with "I'm Happy But You Don't Like Me." A driving rhythm provided by the guitar and drums propels Yuki's bubblegum voice into a playful chorus, made retro by the poppy keyboard solo accompanying it. Although the title gives you a fair idea of what the song is actually about, the listener must guess the details, as the lyrics are in Japanese.

As the album unfolds, the listener will find the foreign flavor of non-English lyrics far preferable to knowing all the intimate details of the songs. Even songs written in English, such as the beautiful and dreamlike "Walk on the Moon" focus more on lyrical poetry than storytelling.

Over a dazzling frenzy of guitars and keyboard that are slowly building up to some kind of climax, Yuki belts "I'm swimming in gray / Let them all walk away / so there's no one to blame / I'll be left with the shame."

For the beauty and magnitude of Yuki's voice, it almost seems surprising that the album ends with the calm and serene vocals of guitarist James Hanna.

Compared to the rest of the album, "Before We Fall" is subdued, minimalistic and personal. With only an acoustic guitar strumming the rhythm, Hanna manages to describe the group's fusion of genres and cultures in one line when he softly sings, "There's so much in this world."

Andi Berlin
Arizona Daily Wildcat

Forward by Ryanhood

Ryanhood's newest record, Forward, is... nice. It's pleasant enough to avoid being painful, but it lacks substance, meaningful lyrics and a unique sound.

Ryanhood is a duo comprised of two Arizona musicians, Ryan Green and Cameron Hood. Together they sing sensitive little pop songs, in a vein vaguely reminiscent of Simon and Garfunkel. Both are gifted with decent singing voices, and their skillful harmonizing is the only thing that carries the record.

The music itself is, for the most part, forgettable. The CD opens with a few "I'm such a sensitive boy that I can only express my feelings of longing and loneliness through mid-tempo whining over generic acoustic guitar strumming" songs. Later on the CD, Ryanhood gets a little adventurous as they use the same bland lyrics over other (toned down) musical styles. Songs like "Separate" sound like impersonations of mid-'90s jam bands that no one remembers the names of anymore. Other songs, such as "You Used To" and "Dance all Day" lean more towards a country/bluegrass style.

Lyrically, well... Ryanhood really likes to sing about plants. There are repeated references to petals, roses, and gardens, but the duo's plant love finally culminates in "Ivy," where for 4 minutes and 15 seconds, they compare a girl to ivy. "She's planted in me like ivy/ She's wrapped around me like ivy/ She's growing on me like ivy/ She's gonna be green like ivy." Way to rock the metaphors, fellas.

Honorable mention for my favorite set of lyrics on the record go to a couple of lines in "Welcome You Into My Head" that reads "Welcome you into my head/ Welcome you into the storm/ Just bring a parasol/ Scattered showers are the norm." They used the word "parasol" in a song, people. That must be worth something.

If you're interested in hearing this "nice" music performed live, you're in luck. Ryanhood will be performing in The Cellar restaurant in the Student Union Memorial Center on Friday at 11 a.m. You can catch them later the same day at their 6 p.m. show at Club Congress.

Karinya Funsett

Doves find a home among Some Cities

Many emotive rock bands from England have the unenviable task of trying to live up to the English emotive rock band: Radiohead. Some try their hand as doppelganger (Muse) while others try to avoid direct comparisons (Travis).

Then you have Doves, a Manchester band, who rather quietly released two excellent albums with 2000's Lost Souls and 2002's The Last Broadcast, and also managed to avoid coattail chasing.

Doves newest album, Some Cities, showcases the best parts of their previous albums, while displaying their expansive sound. In fact, Doves is more early U2 than Radiohead, back when Bono and the boys were a bit more passionate about their music.

The album starts off with the incredible one-two punch of "Some Cities" and "Black and White Town." While the former is a building roof-ripper, the latter, and first single, blazes from the start with its wobbly piano riff and economical yet catchy drumming. When the song hits its stride, which strangely includes a mid-song free verse spouting, Andy Williams lets his vocals soar above the mix.

"Here comes the action/Here it comes at last/Lord give me a reaction/Lord give me a chance."

While Doves has never avoided an anthem sound, Some Cities seems intent on making an anthem out of nearly each track. But, with lyrics that avoid direct optimism, it's hard to complain.

However, the contrasting songs on the album give the anthems a run for their money, as well as added meaning. For example, the Motown soaked "Almost Forgot Myself" may be Doves' finest moment as they ride a bass line straight out of Detroit through a fuzzy haze. Meanwhile, album closer "Ambition" sums up the album's outlook perfectly amid its reverb cries and hushed vocals.

"So ambition cut you down/Ain't a love as perfect/Everybody knows it/Something drove you down."

Some Cities hits so well, so often and on so many levels that it's hard to fault it. Even Williams' generally less-than-poetic lyrics favorably match his intense delivery. Ultimately, the lack of diversity of Some Cities remains its biggest problem as it goes from fiery anthem to fiery anthem, which while enjoyable, becomes repetitive.

But if Doves still sounds like this in 20 years, there will be little reason to complain. Assuming they don't let politics get in the way.

Michael Petitti
Arizona Daily Wildcat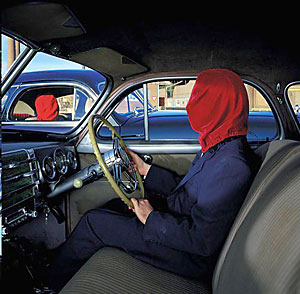 Frances the Mute: Mars Volta
4/10
The Mars Volta Mute relevance
The Mars Volta don't want you to focus on the fact that its two founding members, Omar A Rodriguez-Lopez and Cedric Bixler Zavala, who are from a band they don't want you to mention, At the Drive-In, have enormously cartoonish hairstyles. Afros, to be exact.
No, they want the music to speak for itself.
So be it. Strange appearances aside, Frances the Mute (ironically) says all the wrong things about a band that only a couple years ago showed promise. While the overall sound of the album can be described as "interesting" and "challenging," the most fitting adjective may be "frustrating."
From the start, Frances the Mute aims to defy expectations, but rarely aims to provide entertainment. Clearly, the band thinks, however vague and possibly incoherent, the album is a masterpiece of a conceptualized spiritual and psychical descent into madness. That is, Frances the Mute does not necessarily need to entertain. Which may be valid if it offered a message that could be deciphered by loyal listeners of the album, not including the band and their closest friends.
The album starts with the messy, 13 minute, "Cygnus...Vismund Cygnus." The song never seems to find its place as it shape shifts too much between Spanish and English, from funked out and bassy rock to searing orchestral noise. While the song is broken into subparts in which each layer reveals something else, the results are unfortunately often ridiculous or unnecessary. The lyrics, whether sung, moaned, or screamed and whether in Spanish or English, come off as vague or just nonsensical.
"I found the remnants of a crescent fang/It cleaned my wing down to the bone/Umbilical syllables left to decode there was no cradle."
The sheer length and indigestible quantity of material on each song (there's only five and the album's is 77 minutes long!) makes each listen more chore than enjoyment. On "L'Via L'Viaquez," the back and forth between noisy classic rock guitar solos and piano gargled vocals loses its charm or, more likely, shock value after 10 minutes of it.
There are good things, surprisingly, about this album. "The Widow" remains the album's first single and best song for a reason. Musically, it's the most straightforward. Although not always an indicator of good music, this album proves otherwise. It's also the shortest and most accessible, and even it runs two minutes too long with funhouse organ manipulations playing long after the singing and music has faded away.
The biggest problem with Frances the Mute, aside from its ungodly length and overreaching approach to making music, is the problem of not enough cooks in the kitchen. With the music left to Rodriguez-Lopez and the lyrics left to Zavala, the album seems to be solely their vision, which leaves four other members as background.
Frances the Mute also evidently never had a solid home, being recorded everywhere from Australia to California to Puerto Rico. While there is surely a tighter, more cohesive and better album within this sludge, The Mars Volta's own hubris has not allowed it room to breathe. Afros or not, pretension or not, sonic noodling or not, English, Spanish or gibberish, was there really a need for Flea (Red Hot Chili Peppers) to play the trumpet? Likely not.
Michael Petitti
Arizona Daily Wildcat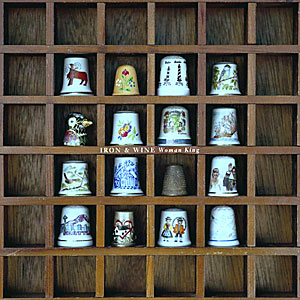 Woman King: Iron and Wine
8/10
Iron and Wine plugs in for women
Sam Beam (Iron and Wine) and electric guitars are as synonymous as, well, iron and wine. Until now!
On his new EP, Woman King, Beam tries out a few new tricks, including finally plugging in his guitar, and the results are often stunning.
Woman King is a collection of Beam's classic Southern style tunes complete with his typically Faulkner-esque lyrics. However, this time around he's shifted his focus from the South to women. But don't expect any of Beam's usual sweetly sung pessimistic commentary on this EP because he mostly paints positive pictures of women from "his lady" to Jezebel.
Beam takes listeners through his breezy brand of whispered folk music on tracks like "Woman King" and "Grey Stables" without much pretension or embellishment. But with the opening electric piano strains of "Jezebel," it's clear Iron and Wine has, yet again, evolved. The song is an ode to the Bible's most infamously bad woman, complete with gently plucked guitar and banjo, as well as "la, la" background vocals from sister Sarah.
Meanwhile, Sam's mellow and understanding vocals offer a unique interpretation of the misunderstood Jezebel.
"Who's seen Jezebel?? She was born to be the woman we could blame/Make me a beast half as brave/I'd be the same."
The EP ends with "Evening on the Ground (Lilith's Song)," which is a sinister progressive stomper about spider bites, baby bones, and sexual aggression. It contains the most shocking line of Beam's career ("One way or another/ We were meant to fuck each other") and a distorted electric guitar, marking another benchmark in the musician's career. While the guitar duels with a fuzzed out fiddle, it becomes clear that there's little Beam cannot do quite well, including drop some retrospection amid the chaos.
"Hey man/Tiny baby tears/I will collect a million years/And you can/.Blame me."
Woman King's biggest problem is one shared by most EPs. Too short. And not enough electric guitar. Okay, I may have added that last one.
Nonetheless, the fact remains that this EP marks an interesting development in one our most brilliant and evolving musicians. Hopefully, he brings his amp for his next full length.
Michael Petitti
Arizona Daily Wildcat


Write a Letter to the Editor