Monday, March 21, 2005


Men's Hoops Analysis: Wildcats' advance is no accident
BOISE, Idaho - In reaching its fourth Sweet 16 in five years, the Arizona men's basketball team was the only No. 3 seed to make it past the first weekend of the NCAA tournament, but it wasn't by accident.
The Wildcats advanced by beating Alabama-Birmingham 85-63 in the second round Saturday and Utah State 66-53 in the first round Thursday.
The Wildcats defeated the Blazers with strong second-half shooting, stifling defense and reliance on more than their two senior stars - Channing Frye and Salim Stoudamire - to handle some of the offensive load. [Read article]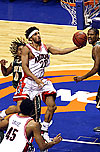 Men's Hoops: Cats surge toward St. Louis
Wildcats get good wins, potatoes on Idaho trip
BOISE, Idaho - The Land of Potatoes has hosted seven NCAA Tournaments, including this year's first and second rounds.
But Boise is not just a mecca for those interested in french fries and latkes. It's the place where UCLA guard Tyus Edney's coast-to-coast drive against Missouri captivated the college basketball nation.
It's the place where No. 15 Hampton upset No. 2 Iowa State in 2001. It's the place where Ralph Sampson and his Virginia team dominated opponents. [Read article]



Women's Hoops: Wildcats edge Sooners in first round
Two weeks ago, the Arizona women's basketball team thought its season might be over.
But the No. 9 seed Wildcats proved yesterday that they still have some fight left in them as Arizona defeated No. 8 seed Oklahoma, 72-69, in the first round of the NCAA Tournament in Thompson-Boling Arena in Knoxville, Tenn.
With the win, all five Pacific 10 Conference teams - ASU, Southern California, Oregon and Stanford - advance to the second round of the tournament, setting a new conference record. In addition, the Wildcats (20-11) recorded a first-round win for the first time in five years. [Read article]



Softball hits road in search of self
Rest and relaxation? Not on the spring break agenda for the No. 1 Arizona softball team.
The Wildcats (15-0) take the field Friday for the UNLV Tournament in Las Vegas, and then travel to Fullerton, Calif., for the Kia Klassic March 18-20.
"We're coming out here in practice, and we're trying to put ourselves together, but the thing that's going to tell about our team is taking us out on the road and just seeing where we are," said sophomore center fielder Caitlin Lowe. [Read article]



Men's Baseball: No. 2 Titans take of three from No. 9 Arizona
After splitting a pair of pitchers' duels, No. 9 Arizona and No. 2 Cal State Fullerton brought the heavy lumber yesterday.
The Wildcats (16-9) lost the rubber match of the three-game series 17-15 at Fullerton yesterday when Danny Dorn hit a two-out two-run homerun to win the game.
Fullerton (16-4) took two of three, winning Saturday's game 7-1 after being shut out by Arizona 1-0 Friday evening. [Read article]



Women's swim and dive ends season on record-breaking notes
While the rest of their peers were enjoying their spring break, the No. 6 Arizona women's swimming and diving team was busy capturing a big performance at the NCAA Championships in West Lafayette, Ind., March 17-19.
The women took third place with 440 points, just behind Auburn and national champion Georgia.
The Wildcats broke six school records, and nine women earned All-America honors.
Arizona also swam away with two individual titles. [Read article]



Women's Tennis: Women snap six-match skid with 7-0 romp
The No. 52 Arizona women's tennis team finally stopped their six-match losing streak March 13.
"It felt good," said Arizona head coach Vicky Maes. "It was good for us to finish the first half of the season with a win."
Arizona (6-6, 0-1 Pacific 10 Conference) started their 7-0 sweep of Minnesota (5-8) with a dominating performance in doubles matches.
The Wildcats' No. 22 team of seniors Dianne Hollands and Maja Mlakar swept Minnesota's Ida Malmberg and Lindsay Risebrough, 8-0. [Read article]



Throwers lead track at home
In hosting their second meet of the outdoor season Friday and Saturday, the Arizona track and field throwers had a great day, notching seven of the 10 Wildcat NCAA regional qualifiers.
"This week the throwers absolutely led this team, beyond a shadow of a doubt," Arizona head coach Fred Harvey said. "Our philosophy is that we fully expect all areas to lead - that's the way we've built the program - and that means that our throwers are always going to be a very strong portion of what we're going to do." [Read article]




Bisordi sets mark as Gymcats stay hot
The Arizona gymnastics team finished up its regular season in style as it went undefeated over spring break, winning both meets and gaining momentum for the postseason.
The Gymcats (195.650) won Friday in College Park, Maryland earning victories over host Maryland (194.125), Rhode Island (189.975) and James Madison (186.600).
"With the senior meet and the meet in Maryland, we have shown we are capable of putting out a lineup that hits," said senior Monica Bisordi. "As a team we are confident and strong." [Read article]



Laxcats accomplish spring break mission in San Diego
Although the No. 6 Arizona men's club lacrosse team has proven its potential for the postseason in the national standings, last weekend it answered whether or not the team could stay consistent, winning its first two conference matches in San Diego.
Junior attackman Greg Polheber booked yesterday's victory with the game winner over No. 14 UC-San Diego, as the Laxcats (6-2, 2-0 Western Collegiate Lacrosse League) won 12-11, in double overtime, as 10 Laxcats found the net. [Read article]



Tech senior lead Raiders to sweet 16
Your average basketball star begins his collegiate career amid a flurry of recognition: McDonald's All-American honors, recruiting feelers from an array of programs and high expectations.
Texas Tech senior guard Ronald Ross, standout of the Tucson bracket's first- and second-round NCAA Tournament games, is not your average college basketball star.
The 6-foot-2-inch native of Hobbs, N.M., traveled a much different path on his way to collegiate stardom. It's a story Texas Tech head coach Bob Knight called the best he could remember in college basketball. [Read article]



NCAA Tournament play in McKale
NCAA Tournament play in McKale Center concluded Saturday with a second sixth-seeded team advancing to the round of 16.
No. 6 Utah, the regular-season Mountain West Conference champion, led throughout in a physical battle with No. 3 Oklahoma, winning 67-58 to earn a trip to Austin, Texa,s for next week's regional.
The Sooners (25-8) rotated four forwards on Utah's seven-foot All-American center Andrew Bogut and held him to 10 points, but the Australian-born sophomore found other ways to beat the opposition, dishing seven assists and pulling down 11 rebounds. [Read article]




showAds('bigbutton')?>






showAds('mediumbutton')?>

showAds('wildlinks')?>