Tuesday, March 22, 2005

Women's Hoops: Cats try to steal another NCAA win
UA faces No. 1 seed LSU in second round
After a season of ups and downs, the Arizona women's basketball team's biggest challenge still lies ahead as the Wildcats take on No. 1 seed Louisiana State University today at 5 p.m. in the second round of the NCAA Tournament in Thompson-Boling Arena in Knoxville, Tenn.
No. 9 seed Arizona (20-11) is no stranger to the Tigers as it has faced off against LSU each of the last two years. [Read article]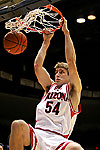 Men's Hoops: The emergence of Captain Kirk
Sophomore forward Kirk Walters has been labeled a protégé, understudy, pupil, apprentice and anything else Channing Frye seems to like.
Walters rose out of Frye's shadow and showed flashes of his own dominance Saturday in Arizona's 85-63 win over the University of Alabama-Birmingham as Frye watched from the bench, pleased that his trainee demonstrated what he has learned.
"The understudy, that sounds good," Frye said, smiling. "Protégé is a good little word for it, too." [Read article]




Men's Hoops Notes: Wildcats roll to Sweet 16 with pair of double-digit wins
The Arizona Wildcats are one of only four teams to win both of their games by double digits, outscoring Utah State by 13 and the University of Alabama at Birmingham by 22.
Head coach Lute Olson thinks Arizona is playing their best basketball of the season heading into the Chicago Regional.
"We're very pleased right now to be going on to the Sweet 16, and we're also very pleased with the way we're playing right now," Olson said. "I think we're playing the best we have played." [Read article]




Hassan's mom: the real expert on UA hoops
Before filling out a new bracket after the upset-insanity that was the first weekend of the 2005 NCAA Tournament - don't even pretend you saw Bucknell over Kansas coming - fans may want to consult the experts.
College hoops junkies would be wise to not turn on ESPN just yet. Proclaimed college basketball experts will likely say Arizona would have a difficult time beating Duke or North Carolina, whom the Wildcats could face if they made it to the title game. But the smart bracketologist should hold off on taking the advice of Dickie V and Andy Katz for right now because it is time to hear from the ultimate expert: Mom. [Read article]




Junior class renews Arizona baseball
When Arizona head baseball coach Andy Lopez arrived at Arizona three years ago, he brought more than a winning track record.
He also brought the recruiting class of 2002.
Three years later, this group has transformed Arizona baseball into one of the nation's elite baseball programs.
After taking one of three games against No. 2 California State Fullerton, Arizona (16-9) holds a No. 9 national ranking behind the power of its potent junior-led offense, which averages nine runs per game. [Read article]



Commentary: UA's best move during spring break? Re-upping Livengood
The most successful move by the Arizona athletics department over spring break was not the men's basketball team's trek to its fourth Sweet 16 in the last five years.
It was not swimmers Marshi Smith's and Emilly Mason's NCAA titles in the 100-yard backstroke and 100y freestyle.
It wasn't even the women's basketball team's jump to the second round for the first time in five years.
In fact, the best thing to happen to the Wildcats didn't even happen on the field. [Read article]




showAds('bigbutton')?>






showAds('mediumbutton')?>

showAds('wildlinks')?>