Friday, March 25, 2005

Cats set up showdown with top-ranked Illinois
ROSEMONT, Ill. - It came down to the last shot.
Luckily for Arizona, Salim Stoudamire was there to take it - again.
The senior guard hit a jumper with just under three seconds remaining to elevate the No. 3 seed Wildcat men's basketball team over No. 2 seed Oklahoma State 79-78 last night.
With his shot, the Wildcats advance to the regional final tomorrow against top seed Illinois.
OSU forward Joey Graham scored a jumper with 19 seconds left to give the Cowboys a 78-77 lead, after a similar shot by Arizona senior center Channing Frye. Graham finished with 26 points and eight rebounds. [Read article]




Salim's dream still alive: Stoudamire does it again
ROSEMONT, Ill. - Senior guard Salim Stoudamire's shot with 2.8 seconds left to beat Oklahoma State brought Lute Olson's wife to tears.
Stoudamire dribbled left, pulled up and released a perfect parabola from the left wing about 15 feet away.
He had no doubt.
"I had no doubt at all," Stoudamire said.
Neither did anyone else. Stoudamire's game-winner was his third this season, first at home against UCLA and then again on the road versus ASU. [Read article]



No. 13 baseball wins Pac-10 opener
A six-run sixth inning blew the game open last night as the No. 13 Arizona baseball team won its Pacific 10 Conference opener 13-6 against Washington at Sancet Stadium.
Eight Wildcat batters in a row reached base in the sixth as Arizona (17-9, 1-0 Pac-10) took down the Huskies (13-9, 0-1) going away.
The pitching staff also held up its end of the bargain, striking out 18 batters to tie a season high in a contest played in front of only 661 fans. [Read article]



Online Exclusive: Oklahoma State lets win slip away
CHICAGO - With less than three minutes left in Thursday's Sweet 16 match up between Oklahoma State and Arizona, the Cowboys led by four, but failed to hang on.
"It's very hard (to cope with)," said OSU forward Terrence Crawford. "We had the lead, and we felt like we were the better team, but we didn't execute like we wanted to and we let it slip away."
With 1:57 remaining on the clock, UA guard Salim Stoudamire hit a 3-point shot to cut the Cowboys lead to 76-75. [Read article]




Wins, not revenge drives softball into Lafayette
The No. 2 Arizona softball team gets a look at its past, present and future this weekend in Lafayette, La.
The Wildcats open their only three-game series of the season Friday against No. 14 Louisiana-Lafayette, in Arizona's final tuneup for Pacific 10 Conference play and a rematch against the team that prevented a 17th consecutive trip to the Women's College World Series.
"Lafayette's a good team, and obviously, being on the road is always a challenge. It's a very unique place to play at," said Arizona head coach Mike Candrea of Lafayette's Lady Cajun Park. "They have great fan support. The fans are crazy. It's a great environment, and it'll be a great challenge for our kids." [Read article]




Wheeler heads to WNBA draft
Though her collegiate career ended in a second-round loss to No. 1 seed Louisiana State in the NCAA women's basketball tournament, Arizona senior point guard Dee-Dee Wheeler has found a silver lining.
The Chicago native was named an honorable mention Associated Press and Kodak All-American and received an invitation to participate in the WNBA draft camp in New York April 8-10.
"Dee-Dee, those are big shoes to fill - (the point guard) is an extension of me," said Arizona head coach Joan Bonvicini. "Dee-Dee was just named All-American, which we're very pleased and excited for. And she's also just been invited yesterday to the WNBA draft. So we're excited for Dee-Dee. She's had a tremendous career here and should potentially play in the WNBA." [Read article]



Track prepares for Jim Click shootout
Even with "tired" legs, decathlete Jake Arnold was able to set a personal best yesterday.
Running the 400-meter in 50.99, the sophomore from Santa Rosa, Calif., posted a personal record in day one of the Wildcat Combined Events at Drachman Stadium.
"Even though my legs weren't totally fresh, I ran pretty good," he said.
Arnold said that he would not participate in day two of the Combined Events, citing the need for rest. [Read article]



Tennis teams to face Los Angeles schools
Women's tennis hold court at home
The No. 47 Arizona women's tennis team has a tough task ahead of them if they want another winning streak.
Arizona (6-6, 0-1 Pacific 10 Conference) plays at home today at 1:30 p.m. against No. 12 UCLA (9-4, 2-0) and tomorrow against No. 5 Southern California (10-1, 2-0) at noon at Robson Tennis Center.
The Wildcats were set to face the Bruins and Trojans earlier in Los Angeles, but the games were cancelled because of rain. [Read article]




Rugby hosts senior-day rivalry tomorrow vs. ASU
No matter what sport, the rivalry between Arizona and ASU is always there, and it holds true when the Wildcats' men's club rugby team faces off against the Sun Devils tomorrow at Estevan Park at 1 p.m.
Arizona looks to extend its 20-year win streak against ASU after a week layoff over spring break.
"We needed to get back into our rugby mindset," said Arizona assistant coach Tyson Swetnam.
In order to prepare for the match, the team worked on keeping possession in confined positions while getting rid of the ball in pressure situations. On the defensive end, a series of drills were introduced to assure quick footwork during the match. [Read article]




showAds('bigbutton')?>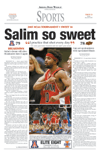 showAds('mediumbutton')?>

showAds('wildlinks')?>